V prvom rade by som vás chcela veľmi pekne privítať na mojom blogu aj v roku 2018! Inak, neviem, či ste si to uvedomili, ale dnes je pekný dátum – a to 8.1.2018. A okrem toho, je to deň, kedy na mojom blogu pribudne prvý tohtoročný článok –> starostlivosť a pleť 🙂
Myslím si, že veľmi veľa dievčat ( a žien ) trápi akné, či iné "šarapaty". Ja s akné bojujem už niekoľko rokov. Raz úspešne, inokedy ani nie. A vždy ma zaujíma, ak nejaká blogerka, či youtuberka hovorí o jej pleti a ako sa o ňu stará. Tentokrát som sa rozhodla, že by som sa ja chcela podeliť o moju starostlivosť, ktorú mám zaužívanú už dlhšiu dobu 🙂
V prvom rade si musíme uvedomiť, že starostlivosť o pleť, to nie sú len masky, gély, krémy či nejaké peelingy. Treba začať úplne niekde inde a to v strave. Dodržiavať pitný režim, nejesť veľa sladkostí (haha) a piť zelený, žihľavový či nejaký iný bylinkový čaj. Teda aspoň u mňa to tak funguje. A ďalší dôležitý bod sú vaše ruky. Možno si to ani neuvedomujete, ale toľko nespočetne veľakrát si prejdete rukami po tvári a pritom ste práve vyšli z MHD, či šoférovali. Prenášate si tak baktérie a špinu na tvár. Ja viem, aj ja s tým mám problém, ale snažím sa "sebaukontrolovať" 🙂
Ak ma sledujete už dlhšie, viete, že moja srdcovka je BIODERMA. Používam radu Sébium. Celá táto rada je určená pre mastnú pokožku so sklonom k nedokonalostiam a akné. Nie je to najlacnejšia kozmetika, ale mne pomáha. Samozrejme, nerobí zázraky, že jeden deň si ju aplikujem a na druhý sú všetky vyrážky preč. Chce to trpezlivosť a čas. No celkovo môžem potvrdiť, že postupne sa moja pleť s Biodermou určite zlepšila 🙂
Moju starostlivosť by som rozdelila na dve časti a to RANNÚ & VEČERNÚ. A potom doplnkovú, ktorú nepoužívam každý deň. Ak je tu niekto, kto má problém s akné, no používa inú kozmetiku, ktorá mu pomáha, poteším sa, ak mi napíšete a rada sa inšpirujem 🙂
RÁNO: vyčistím si pleť Sébiom H2O a namastím si pleť krémom Sébiom Hydra. Teda takto. Doteraz som používala Sébium Global, no trochu mi vysušoval pleť. V letných mesiacoch je ideálny, no momentálne, keď je pleť kvôli zime suchšia (a kvôli krému,ktorý si dávam večer), používam krém Hydra, pretože je vláčnejší, hutnejší a po jeho aplikovaní nemám suchú pleť. A slúži aj ako skvelý podklad po make-up. Nanášam si ho každý deň, bez ohľadu na to, či sa v daný deň maľujem alebo nie. Vlastne celú túto starostlivosť opakujem každý deň bez ohľadu na to, či sa budem alebo nebudem maľovať 🙂
VEČER: opäť si pleť vyčistím pleťovou vodou, no teraz už nepoužívam krém z rady Bioderma, nakoľko chodím na pravidelné kontroly ku kožnej lekárke a od nej mám predpísaný Duac Gel. Bojuje proti baktériám, ktoré spôsobujú akné, lieči čierne komedóny a vyrážky a v neposlednom rade znižuje počet červených, zapálených aknóznych vyrážok. Musím poklopať, že mi to naozaj pomáha.
Čo sa týka doplnkovej časti starostlivosti, tak to je čistiaci gél proti akné a krém a korektor na akné. Tento gél je vlastne ako mydlo, ktoré si aplikujem na vlhkú tvár, napením a následne opláchnem. Používam ho 2-3 krát do týždňa. Najideálnejšie je použiť ho pred samotným čistením pleti.
Krycí krém sa skladá z dvoch častí a to korektoru, ktorý si nanášam priamo na vyrážky a samotný tónovací krém. Zatiaľ je len jeden odtieň, čo nie je moc dobré, pretože nie každému sadne. Mal by sa prispôsobiť farby pleti, čo je aj vcelku pravda, pretože určite to nevyzerá až tak tmavo ako na mojej fotke, ale určite by sa mi zišiel svetlejší odtieň. No keď sa v lete opálim, bude ideálny 🙂
Čiže dievčatám a ženám, ktoré majú problémy s akné, môžem túto kozmetiku len a len odporučiť!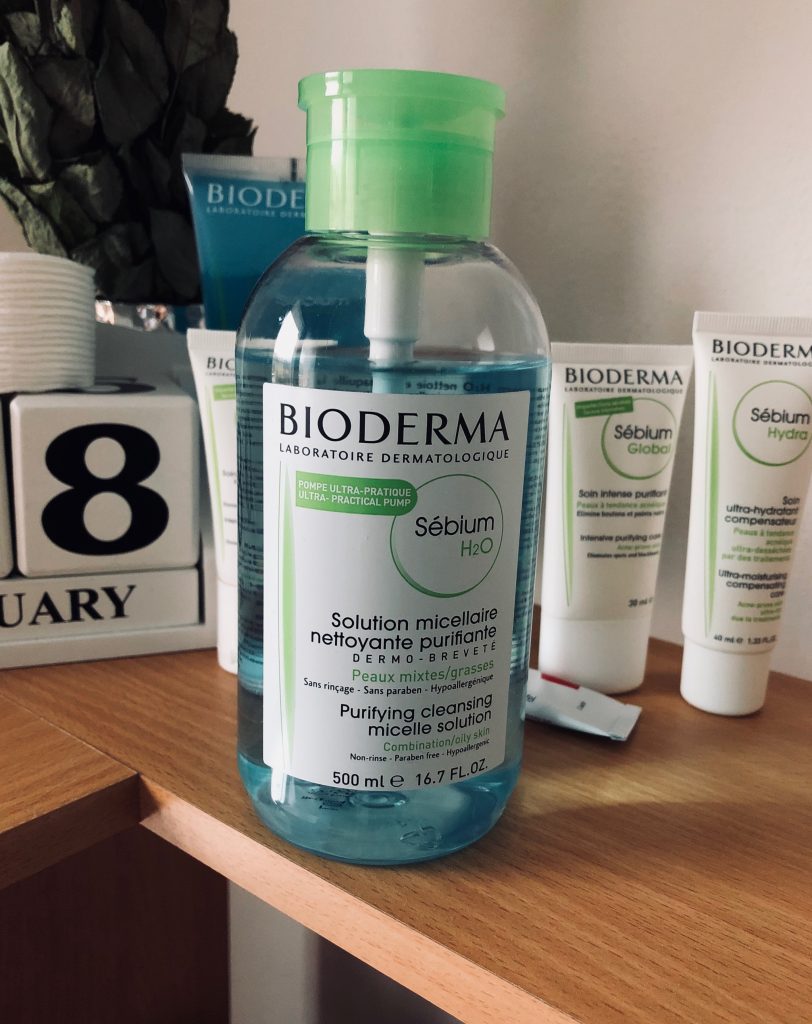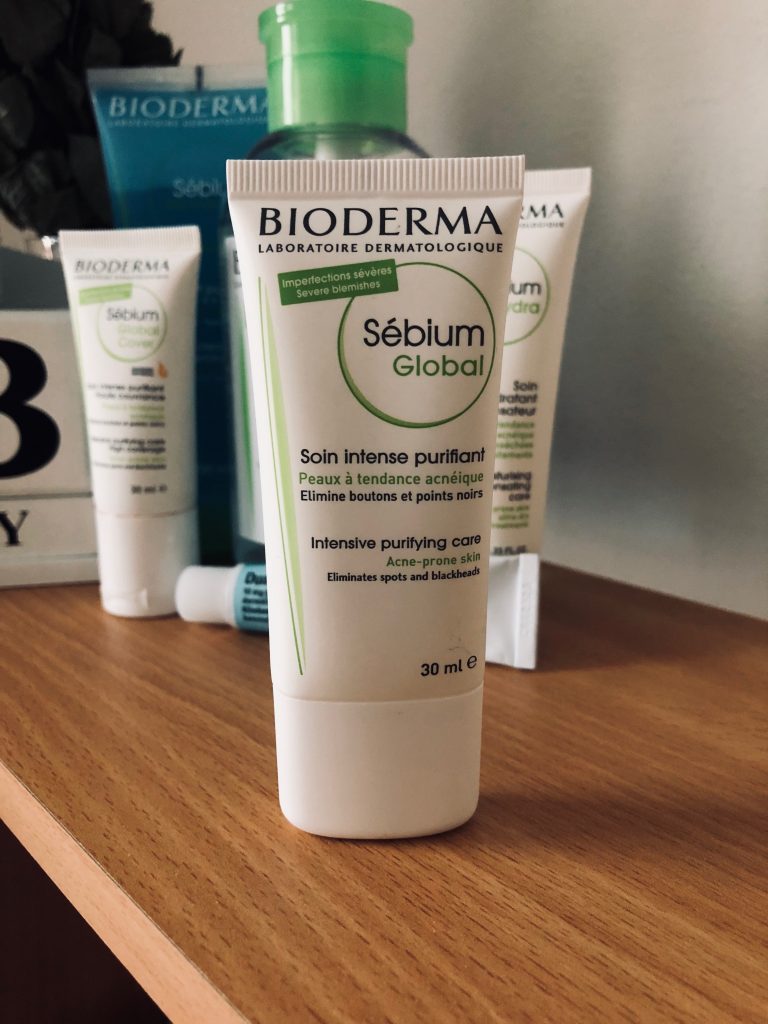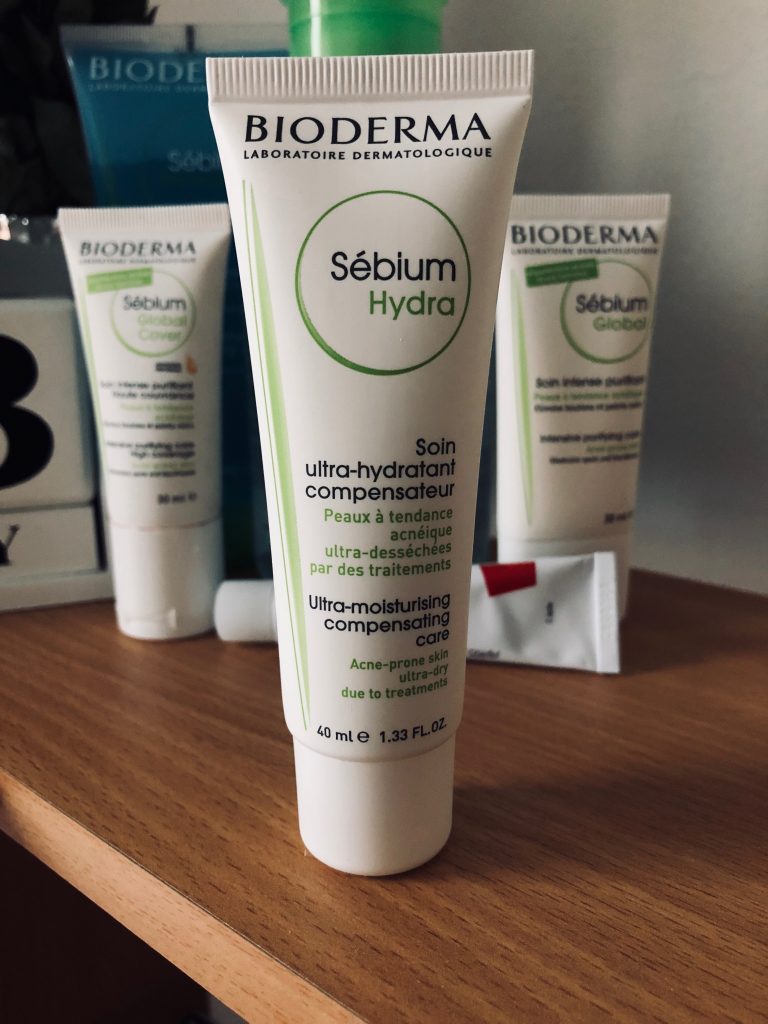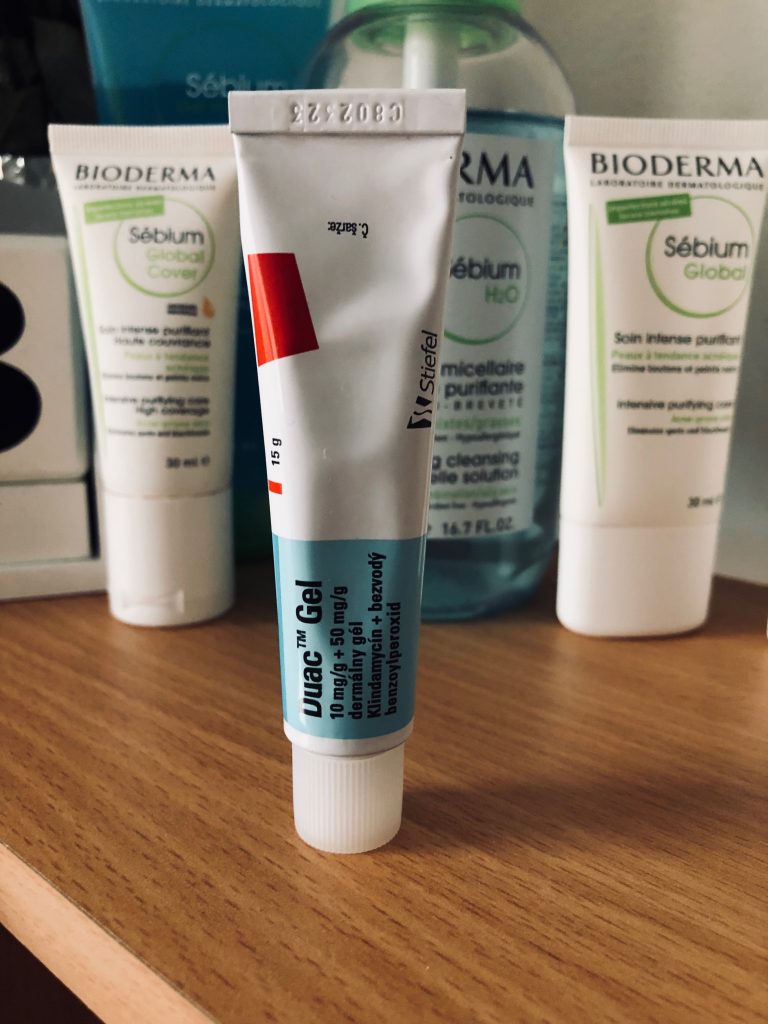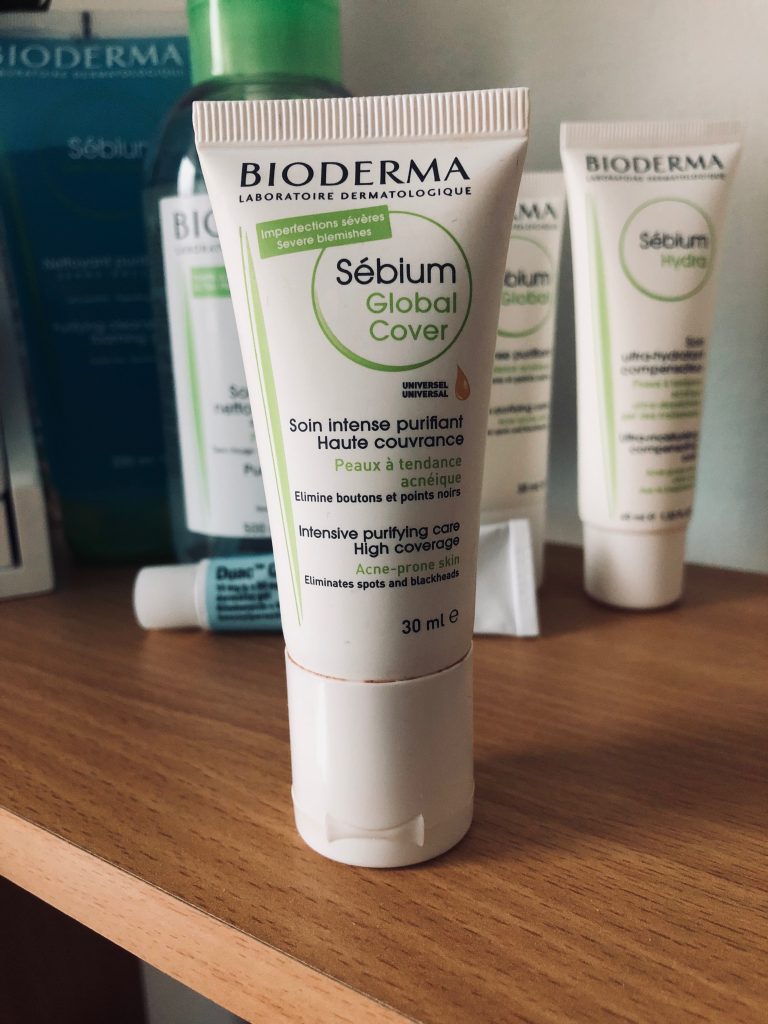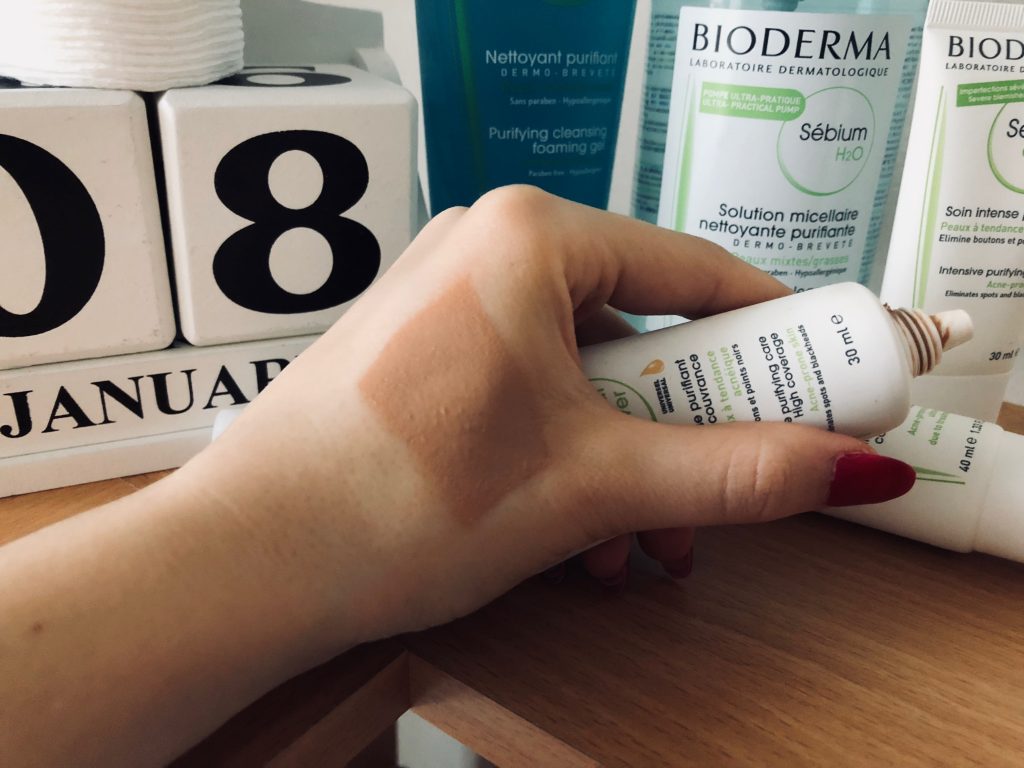 Nie som typ ženy, čo musí byť vždy a všade namaľovaná. Nehovorím, že nemám rada takéto skrášlenie, ale v prvom rade by sme sa mali cítiť krásne prirodzené. A preto vám želám, aby ste sa mali rady také, aké ste, pretože skutočná krása ide zvnútra! ♥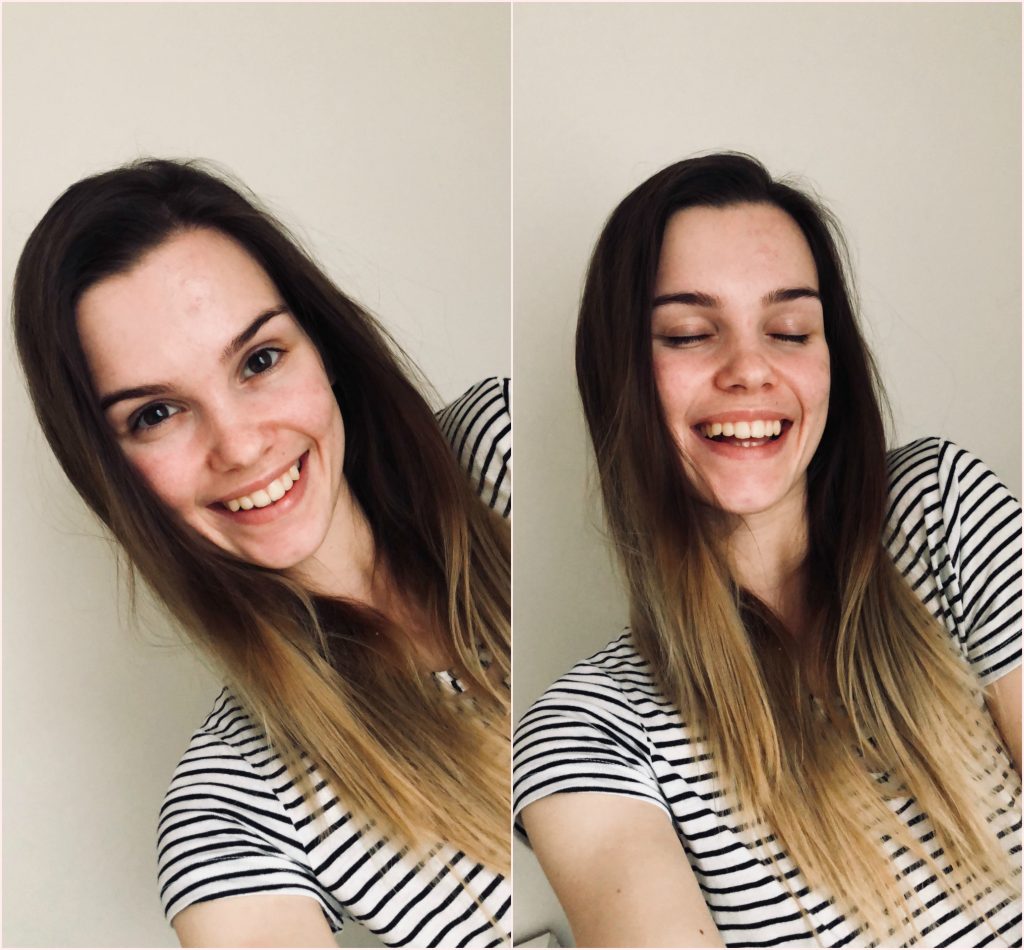 celú radu nájdete tu: http://www.bioderma-sk.com/nase-produkty/sebium 🙂