spotrebovanci a nový edukačný web.
Ahojte! Po niekoľkých mesiacoch tu máme opäť spotrebovance, no dnešný článok bude o čosi špeciálnejší, pretože Vám chcem predstaviť nový edukačný web, ktorý si ako milovníčky kozmetiky určite zamilujete. Tak poďme rovno na to 🙂
PLEŤ + MASKY NA PLEŤ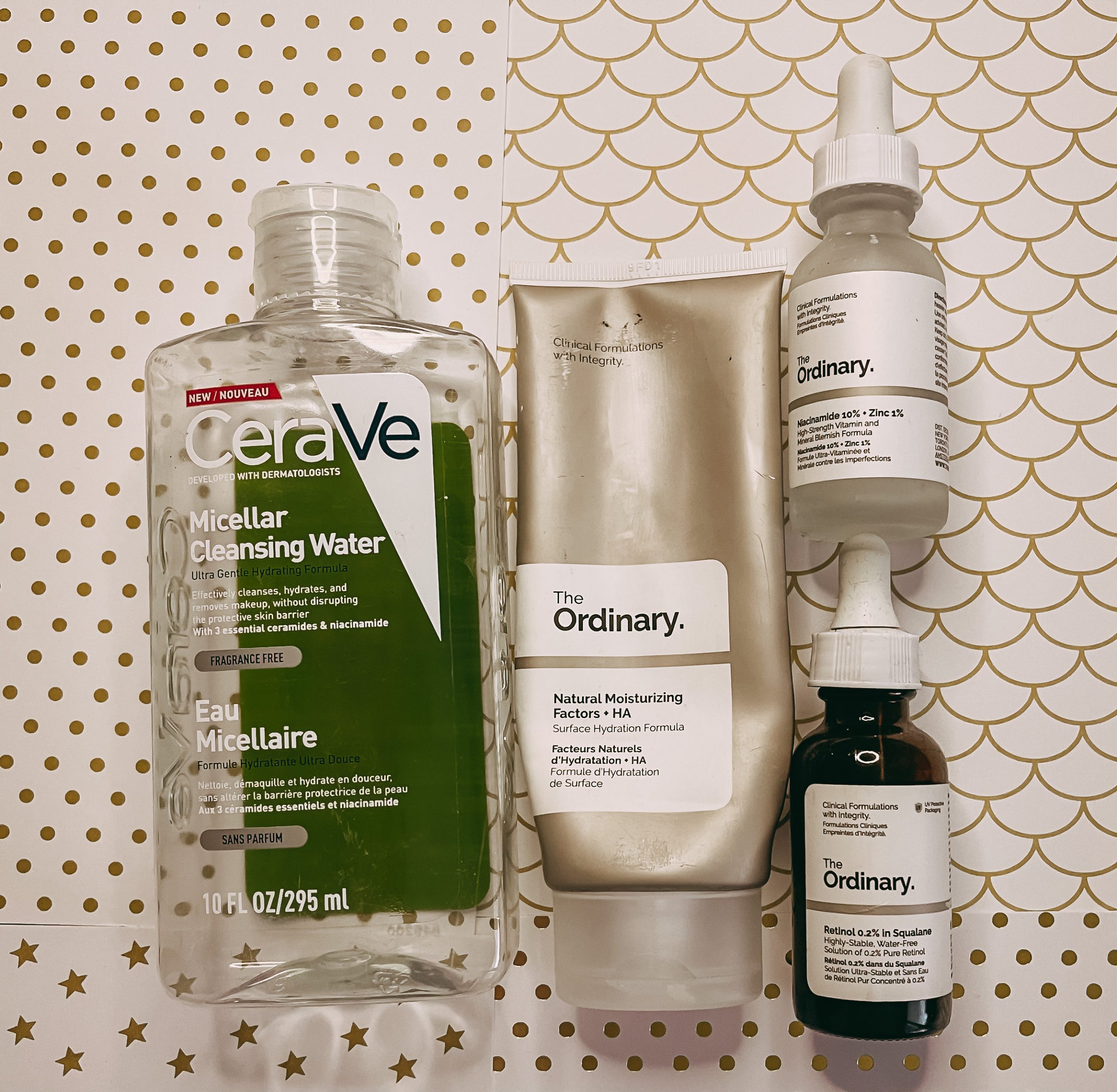 Ak ma sledujete a čítate moje články už dlhšie tak viete, že značku THE ORDINARY a CERAVE už používam dlhšie. Nehovorím, že mi na pleti robia zázraky, no na druhej strane mi ani pleť nezhoršujú. Micelárnu vodu, krém a retinol mám ďalšie balenie, ktoré momentálne používam. Čo sa týka Niacinamidu, taktiež ho denno-denne používam, no značku The ordinary som vymenila za CATRICE. Za mňa sú všetky tieto produkty veľmi dobré a som s nimi spokojná.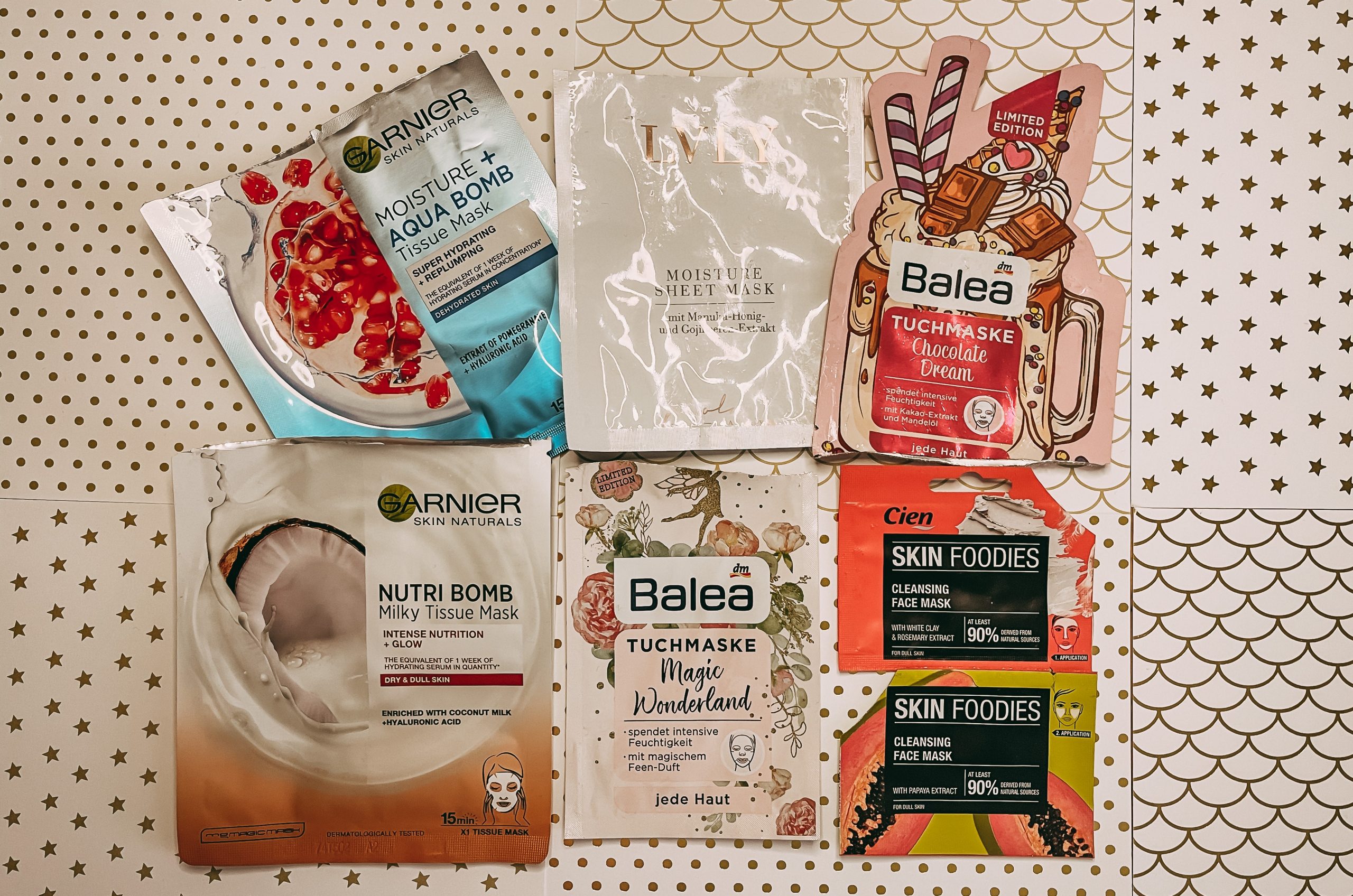 Čo sa týka masiek na pleť, tak Moisture+ Aqua Bomb Tissue Mask od GARNIER a Moisture Sheet Mask od LVLY boli najlepšie a tie si určite kúpim znovu. Krásne pleť zhydratovali a aj po použití som mala super pocit na pleti. Na druhom mieste by boli Tuchmaske Magic Wonderland od BALEA a Nutri Bomb Milky Tissue Mask od GARNIER, ktoré taktiež pokožku zhydratovali, no tá od GARNIER bola na mňa až príliš hydratačná (čo pre suchú pleť je úplný ideál) a tá od BALEA nezanechala pokožku tak dlho zhydratovanú, no vrámci svojej ceny ja fajn. SKIN FOODIES z Lidlu je zaujímavá v tom, že hornú a dolnú časť masky si dáte na rôzne partie pleti, no žiaden efekt som nevidela a Tuchmaske Chocolate Dream od BALEA mi smrdela. Možno je to tou čokoládou, takže ktorí ju v produktoch máte radi, určite po nej siahnite, no i keď mi pleť zhydratovala, kvôli vôni si ju už nekúpim.
VLASY
Všetky tieto výrobky by som si kúpila ešte raz. Každý a jeden mi veľmi vyhovoval a všetky krásne voňajú. Tento suchý šampón od AUSSIE je asi najlepší, aký som kedy mala. Regeneračný kondicionér v spreji GLISS KUR s keratín sérom som používala cca od jari do jesene, vlasy mi krásne voňali a vôbec neelektrizovali. Ďalší kondicionér v spreji od ONELY s 10 benefitmi som mala cca rok a pol a stále všetko spĺňal, vlasy som mala vyživené a zdravé. A ako posledný tu mám ošetrujúci sprej na vlasy od AUSSIE, ktorý mi tiež vydržal niekoľko mesiacov a tá vôňa je vďaka obsahu makadamového oleja proste dokonalá. Chcem dopoužívať všetko, čo mám a vrátim sa postupne k týmto výrobkom opäť.
TELO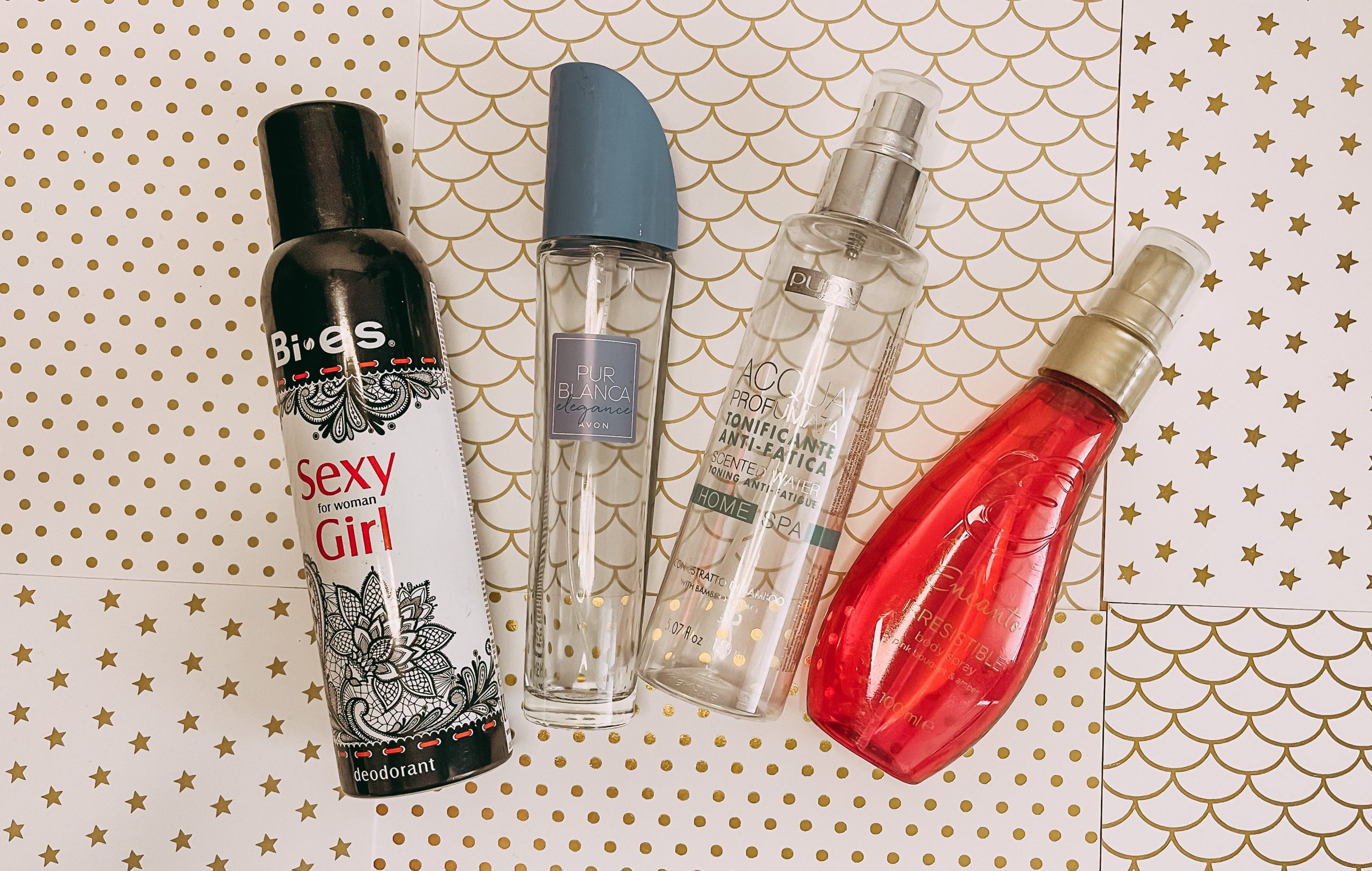 Ja už asi rok používam iba mužský deodorant od Old Spice 😀 , ale tento od BIES veľmi silno a krásne vonia a preto som ho tu zaradila. Ja som ho používala aj ako iba telový sprej alebo som si ho rovno nastriekala na tričko a voňala som celý deň 😀 (prepáčte za úprimnosť). Potom tu máme ďalšie telové spreje. Obidva spĺňali, čo mali a počas horúceho dňa v práci v kaviarni bodli vhod, no ak by som sa mala rozhodnúť čisto len na základe vôni, tak by to bol tento od AVONU. Svieža, ženská vôňa. Ten od PUPY Aqua Pofumata Tonificante Anti-Fatica nebol zlý, no nevoňal mi až tak pekne. Eau de Toilette Pur Blanca určite poznáte, ja som ju dostala a kľudne by som si ju kúpila znovu. Hlavné tóny: lesné plody, jazmín, biele pižmo.
DEKORATÍVNA KOZMETIKA
Myslím si, že dôverne poznáte nákup toho istého výrobku, ktorý vám vyhovuje. V tejto kategórii tu mám dva rovnaké podkladové laky na nechty od MISS SPORTY a kúpila by som si ho znovu, no už som ho v DMku nevedela nájsť. Pekne mi spevňoval nechty a bol dobrý ako aj podkladový, tak aj ako vrchný lak. Očnú linku Epic Ink Liner od NYX pozná každý a i keď nie je najlacnejšia, stojí za to. Super sa s ňou pracuje, neodtláča sa a je vodeodolná. Ja už ani nerátam, koľké balenie mám tohto korektoru od CATRICE, pretože za tú cenu je výborný. (mám odtieň 020) Špirála Supershock od AVONU krásne riasy predĺži a nelepí ich. Momentálne skúšam aj iné, no táto ma nikdy nesklamala.
JEDLO/VITAMÍNY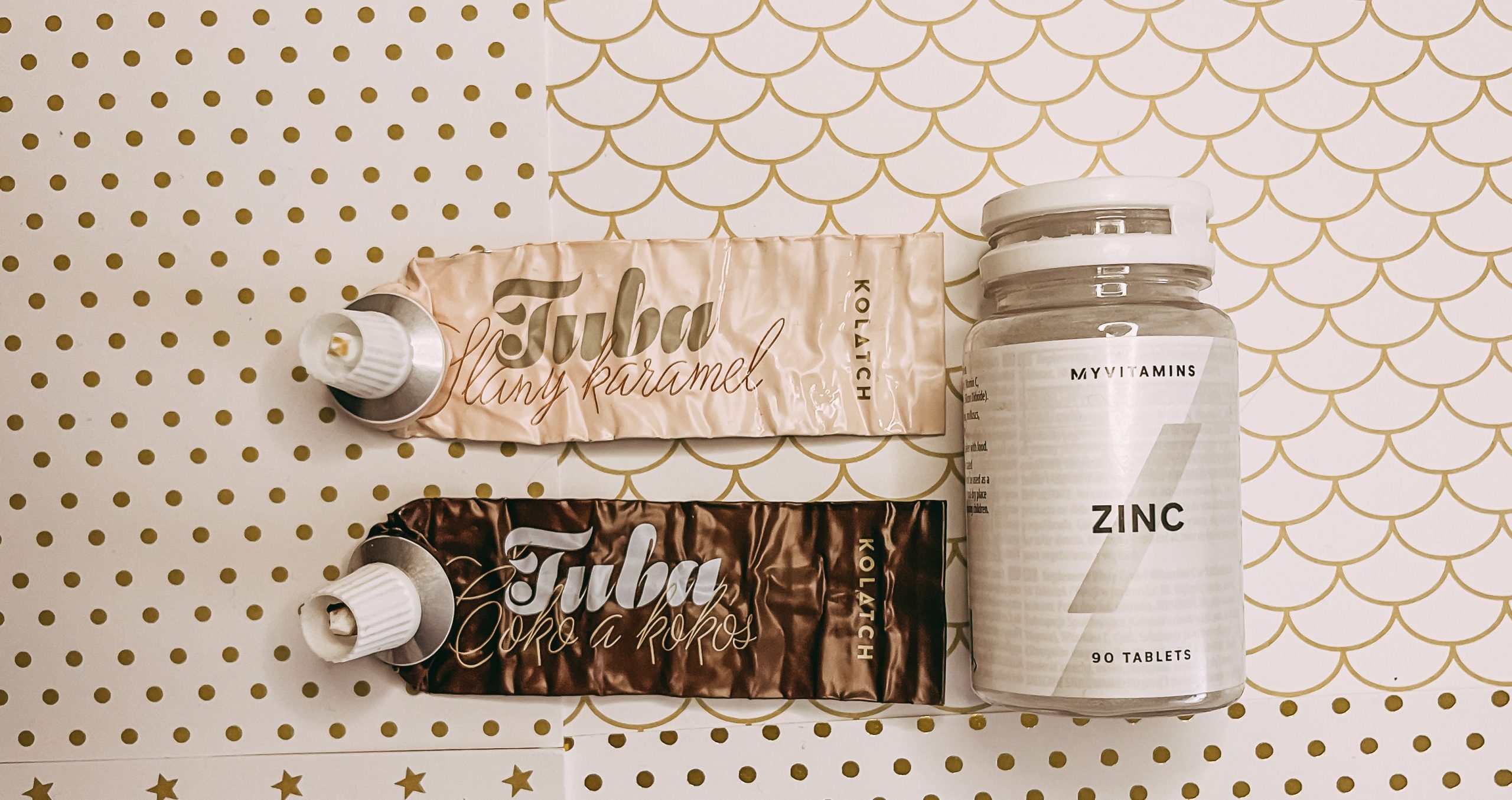 Minule na stories som vám ukazovala tieto nenormálne dobré tuby od značku KOLATCH. Nájdete ich aj v DMku a garantujem vám, že túto kúpu neoľutujete. Proste mňamka a postupne chcem ochutnať všetky príchute. A ako poslednú vecičku tu mám Zinok, ktorý spolu s vitamínom D3 papám každý deň. Čo sa týka zinku, vlasy a nechty mám krásne, pleť si žije svoj život, ale určite mi jeho branie pomáha.
NOVÝ EDUKAČNÝ WEB PRE MILOVNÍČKY KOZMETIKY
Ja sama mám rada takýto koncept článkov, pretože povedzme si úprimne, väčšinu produktov si kúpime na základe pozitívnych recenzií od iných. No nie vždy všetko všetkým vyhovuje a niekedy si kúpime produkt, ktorý na našu pleť vôbec nie je vhodný. No čo ak by ste na kozmetický výrobok mali dešifrované zloženia tak, aby to bolo ľahko zrozumiteľné pre každého? A to, samozrejme, na základe vedecky podložených informácií z dôveryhodných databáz? Mám pre vás super správu, takýto web už existuje.
Prikladám aj jeho ukážku, kde môžete vidieť, že web je veľmi prehľadný a nájdete tam všetky potrebné informácie o danom produkte. Nie je to stránka, kde si napríklad sérum priamo kúpite, ide čisto o veľmi užitočné informácie, no kde by si ste si ho mohli zakúpiť, uvidíte po pravej strane.
Odkedy si liečim akné, dávam si pozor na to, aby napríklad moja pleťová kozmetika neobsahovala alkohol či veľmi výraznú parfumáciu a aby bola teda priamo určená na problematickú pleť. Taktiež sa snažím používať produkty bez sulfátov, parabénov či silikónov. Ak sa o zložení produktov zaujímate aj vy alebo si chcete prečítať recenzie, www.lakrem.sk je pre vás tá správna voľba.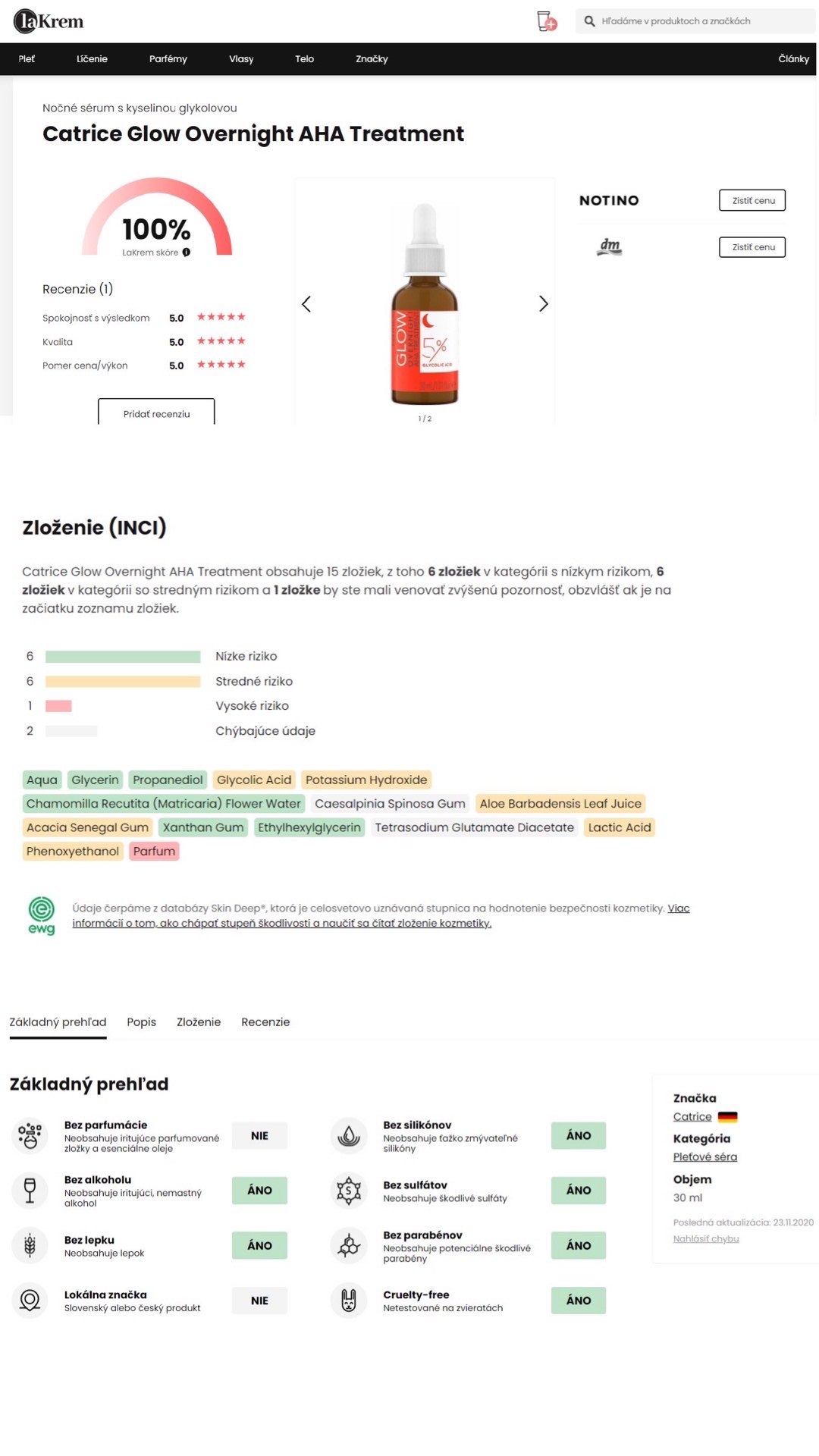 Ďakujem, že ste sa dostali až sem a verím, že som Vás inšpirovala. Kľudne mi do komentára napíšte, či tento nový web poznáte a či máte so spotrebovancami rovnaké či iné skúsenosti ako ja. Majte ešte veselý deň. Vaša Mia ♥