poznáte značku Yves Rocher?
Dnes máme prvý marec, čo vo mne (aj napriek momentálnym drsným mrazom) vyvoláva pocit jari, farieb, slnka, kvetov a pomaly a isto aj dlhších dní, na čo sa ja veľmi teším, pretože v decembri prídete okolo 4 domov a máte pocit, že je 8, čiže už sa vám nič nechce a rozmýšľate, kedy zaľahnete. Ale vymámme sa spod tejto lenivej nálady a vykročme s úsmevom vpred a privolajme jar! 🙂
Preto som aj pri tomto článku zvolila žltú, aby som si jar nejak priblížila. Sama neviem, odkedy značku Yves Rocher registrujem, ale mám pocit, že je čoraz viac propagovaná a používaná aj tu na Slovensku. Je to to francúzska rastlinná kozmetika, ktorá má niekoľko plantáži, podieľajú sa na zalesňovaní, na výrobu ich obalov používajú recyklované materiály a ich vyhotovený obal sa dá taktiež opäť recyklovať. Samozrejme, nič netestujú na zvieratách a pri produkcii sa snažia spotrebovať čo najmenej vody 🙂
Ja by som vám dnes rada ukázala 3 výrobky na telo, ktoré mám doma. Ako prvý je tento energizujúci telový balzam. Ako môžte vidieť, ešte som ho veľmi nepoužívala, nakoľko používam iný krém na telo a ruky. Snažím sa vždy spotrebovať to, čo som otvorila a nie trochu z toho a trochu z toho, pretože ako vieme, tak ako aj my, i kozmetika starne a tiež ju nemôžme skladovať do nekonečna 🙂
Tento balzam som dostala zadarmo ešte pred Vianocami, pretože mali opäť akciu, že ak nakúpite nad určitú sumu, môžte si vybrať nejaký z produktov zadarmo. Samozrejme, nesmela som tam chýbať 😀 ináč by som si ho sama nekúpila, pretože stojí takmer 12€ a to je pre mňa trochu veľa. Je veľmi príjemný na pokožku, krásne sviežo vonia ( vôňa mandarínky a citróna) a veľmi ľahko sa rozotiera a vstrebáva do pokožky. Som rada, že som si vybrala práve tento produkt!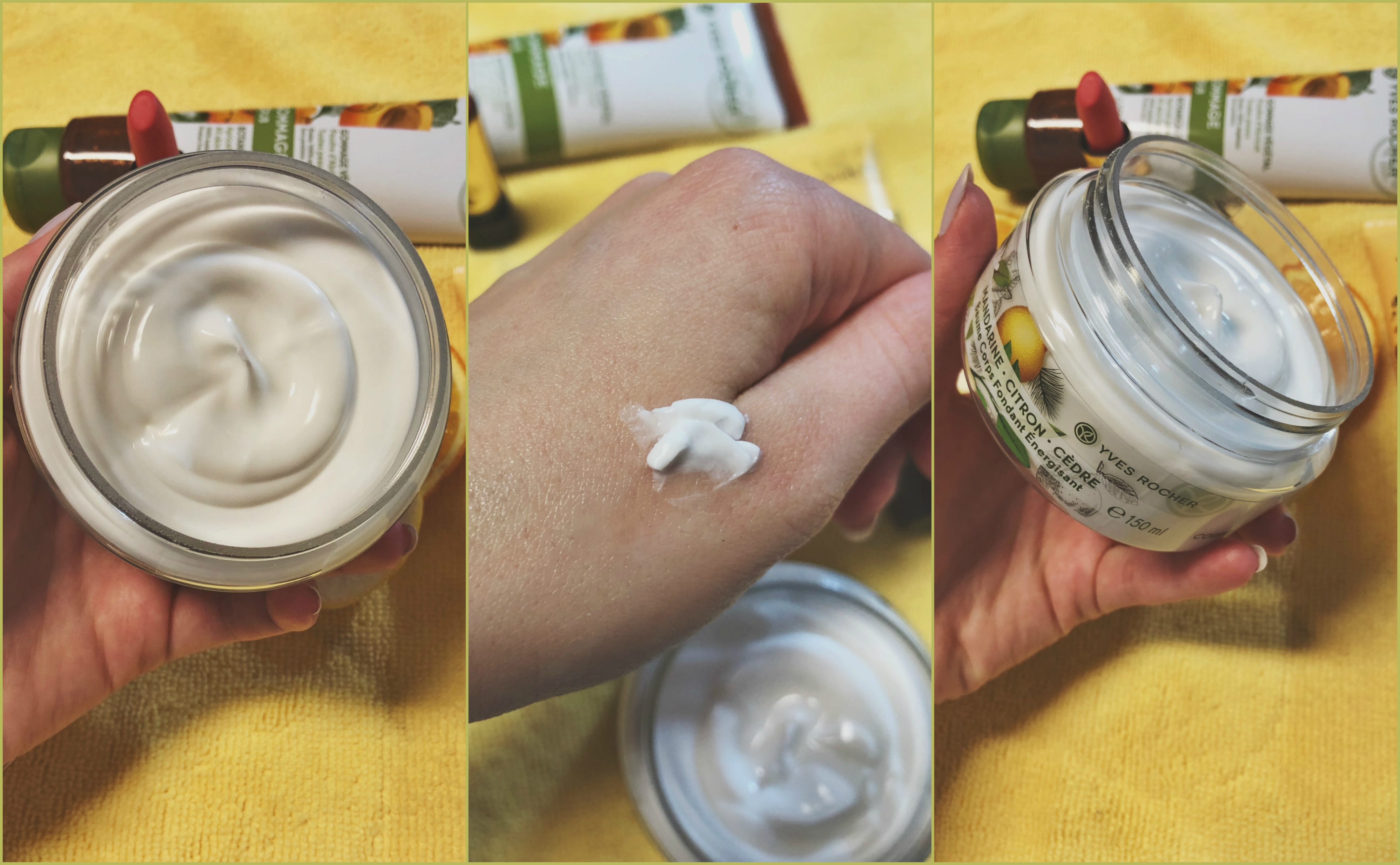 Ako druhý produkt tu mám rastlinný telový peeling. Dostala som ho na Vianoce od priateľa. (Áno, nebudem klamať, pred Vianocami som mu ukázala presné produkty, ktoré sa mi páčili a nech si vyberie. Veď to určite, baby, poznáte 😀 ) Som veľmi rada, že môj prvý telový peeling je práve tento. Okrem toho, že vôňa marhule je veľmi príjemná a nenásilná, pokožku vám zanechá jemnú a keď sa po sprche ešte natriem nejakým krémom, je to pocit na nezaplatenie. Čo je nevýhoda a poviem vám to rovno, trochu to zapcháva sprchu, pretože predsa len tie čiastočky sa nerozpustia, ale ak ho nebudete používať každý deň, myslím, že by to mohlo byť ok 🙂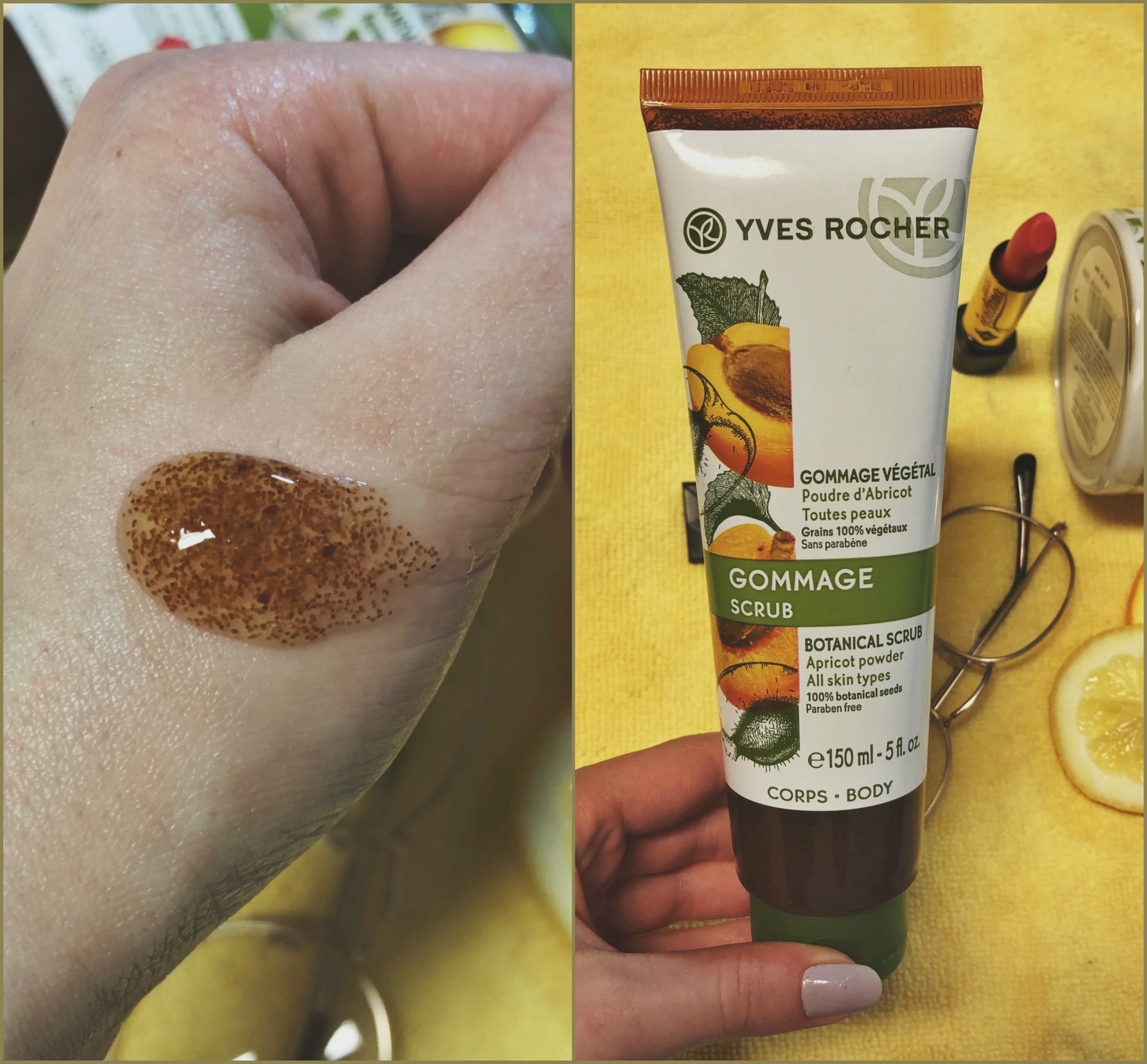 Tento krém na ruky hruška a kakao som už dávnejšie dostala do najlepšej kamarátky a keď som si prvýkrát privoňala, moc ma to neoslovilo, pretože kombinácia dvoch sladkých ingrediencií bola dosť prenikavá. Ale čím dlhšie ho používam, už som si zvykla a tá aróma mi nevadí. Ale pokiaľ neobľubujete sladké vône, neodporúčam vám tento krém. Čo sa týka konzistencie, nie je taká hustá ako pri telovom balzame, rýchlo sa vstrebe do pokožky a ak vás prepadne chuť na sladké, stačí si dať ruky k nosu a dýchať zhlboka 😀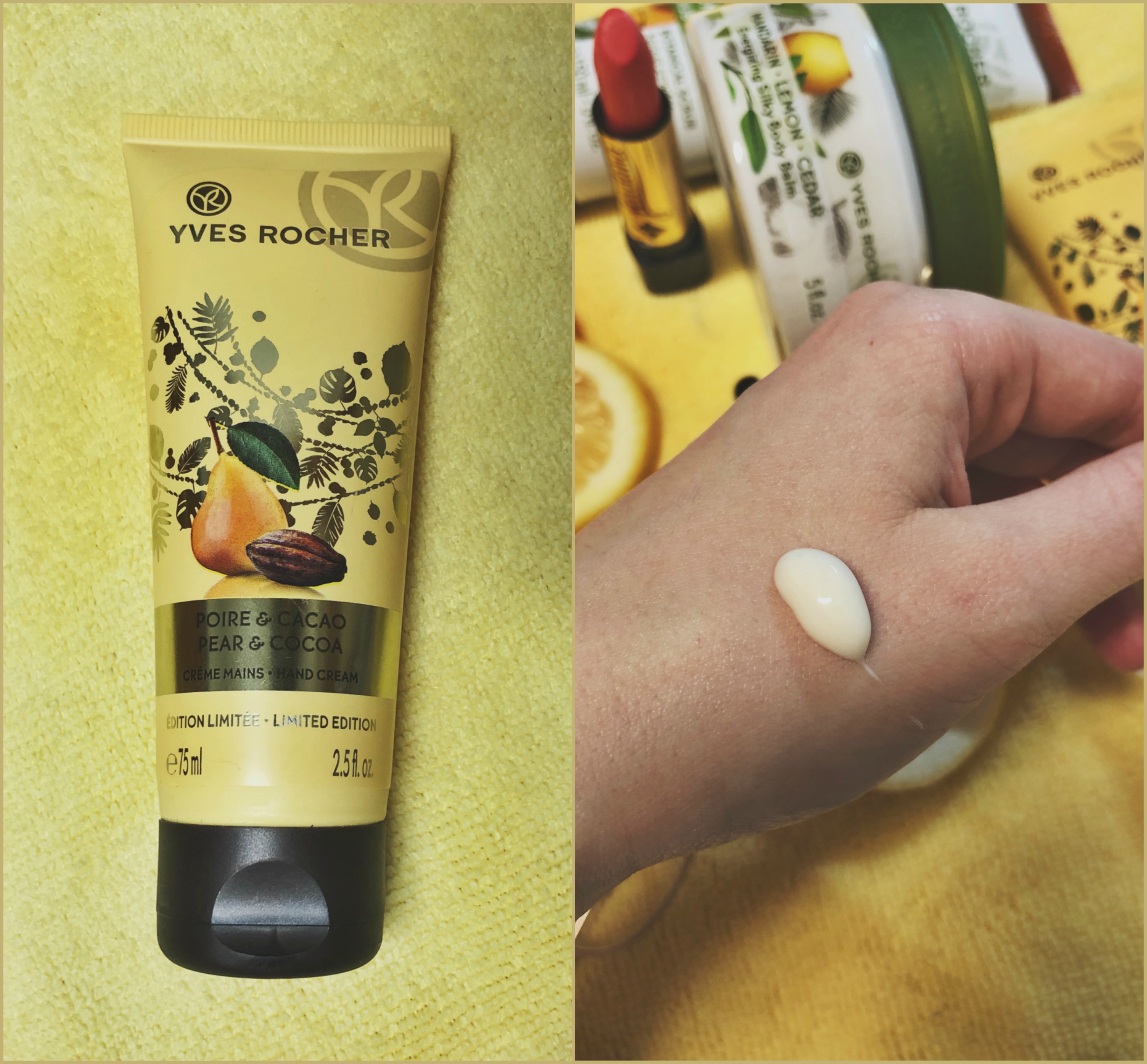 Na dnes by to bolo všetko, verím, že som vám možno touto recenziou pomohla a keď nie, aspoň ste si čo-to prečítali o produktoch od Yves Rocher. Prajem vám ešte pekný slnečný deň a keďže už máme štvrtok, pomaly už aj veselý víkend! Vaša Mia ♥