Ahojte! Dnes som si pre vás pripravila článok s produktmi, ktoré som vyničila a rada by som vám povedala, či ich (z môjho pohľadu) kúpiť alebo nie. Nie sú to mesační spotrebovanci, ako to môžte vidieť na iných beauty blogoch, toto je "zbierka" niekoľkých mesiacov 🙂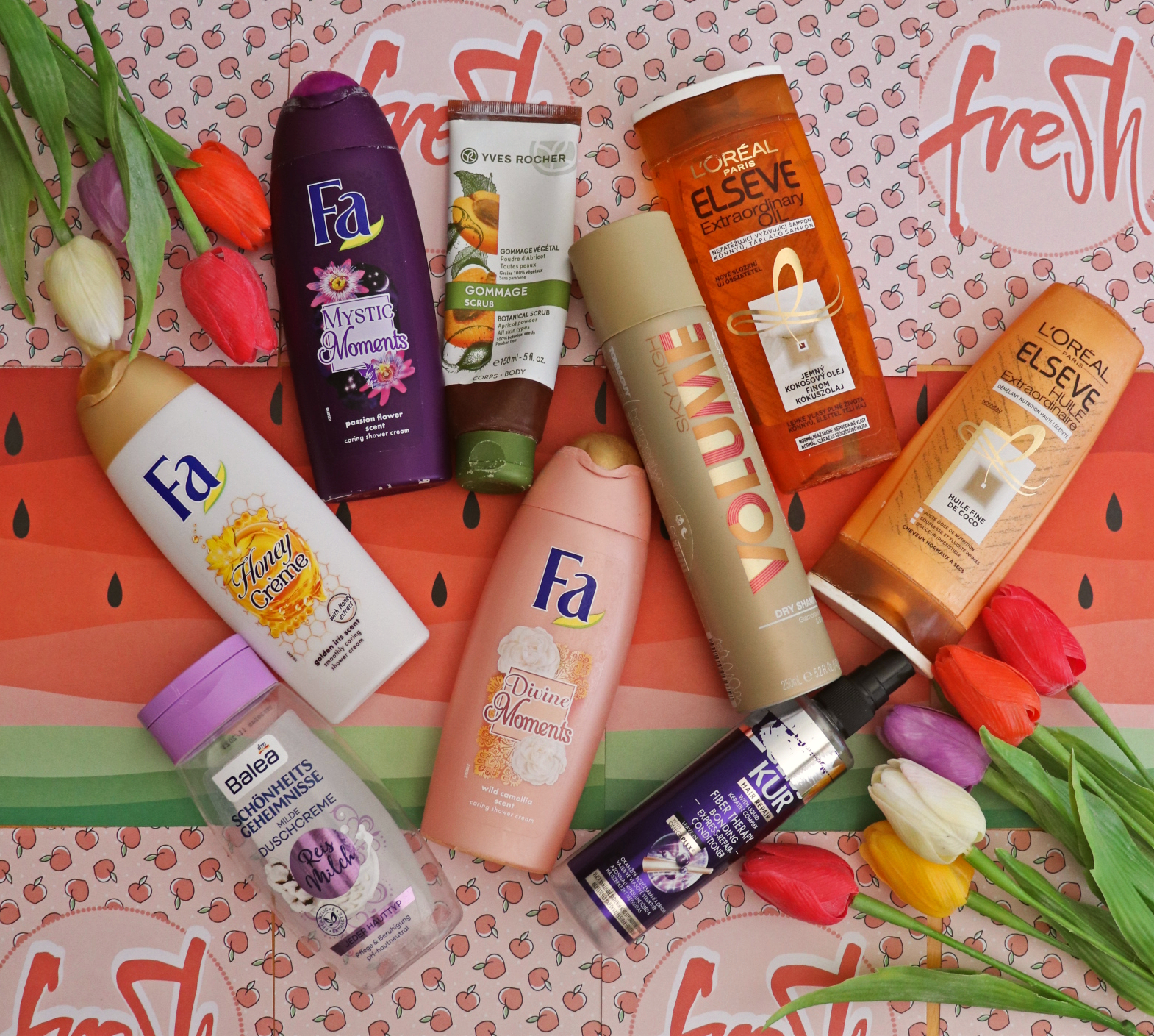 SPRCHOVÉ GÉLY A STAROSTLIVOSŤ O VLASY ♥
"Sprcháče" od FA som si kupovala naraz, pretože som sa nevedela rozhodnúť, ktorý mi vonia viac. Teda neviem ako vy, ale pre mňa je hneď po cene vôňa druhý najdôležitejší faktor pri kúpe. Všetky tri veľmi pekne voňali a ešte aj niekoľko hodín po sprchovaní som cítila ako voniam ( 😀 )
Jemná a príjemná vôňa sprchovacieho gélu Balea bola tiež super voľba, pretože spĺňal všetko, čo sa od tohto produktu očakáva. Za mňa áno! 🙂
Scrub na telo od Yves Rocher voňal po marhuliach, má celkom veľké zrnká, takže nezaradila by som ho medzi jemné peelingy, ale za to po použití som mala jemnú pokožku a kto má rád sladké vône, príde si na svoje.
Suchý šampón od TONI&GUY bol veľmi dobrý – ak som mala mastné vlasy a použila som ho, kľudne som takto mohla fungovať aj celý deň. Pretože po niektorých suchých šampónoch vlasy vyzerajú dobre len pár hodín a ste tam, kde ste boli. Takže i keď je trochu drahší, určite ho skúste.
Expresný regeneračný kondicionér od GLISS KUR bola skvelá kúpa! Ak som si po umytí do vlasov striekla tento kondicionér v spreji, nemala som žiaden problém s rozčesaním, vlasy krásne voňali, boli jemné a lesklé! Toto určite áno! 🙂
Šampón a kondicionér od L´OREAL PARIS ELSEVE sú určené na suché, nepoddajné vlasy. Po použití boli moje vlasy lesklejšie a žiarivejšie. A v neposlednom rade – veľmi pekná vôňa! Odporúčam.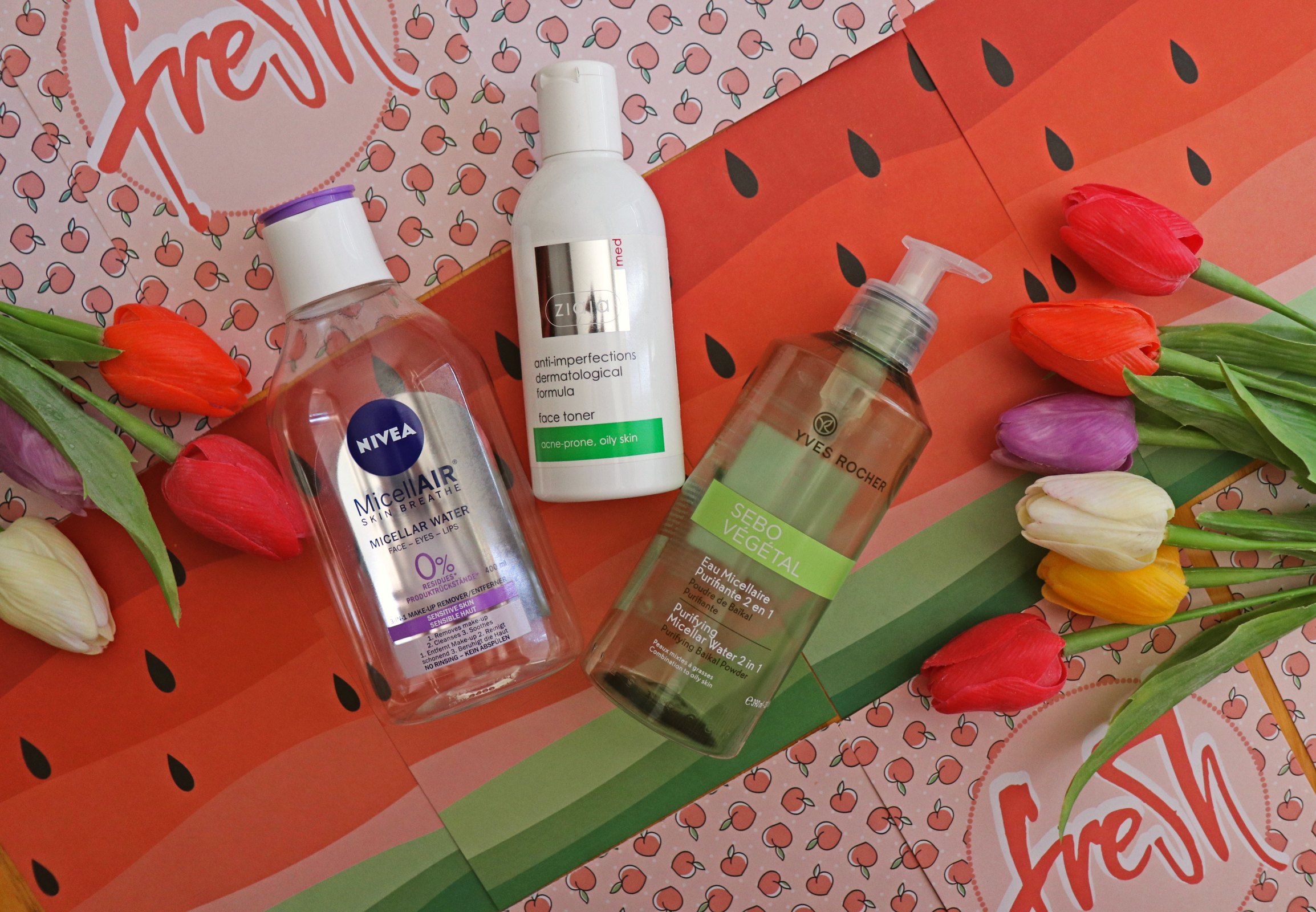 STAROSTLIVOSŤ O PLEŤ ♥
Micelárna voda od NIVEI bola veľmi dobrá. Odstraňovala ma-keup, čistila a moja pleť po nej nebola začervenaná. Nepotrebovala som ešte zvlášť odličovač na oči, pretože táto micelárka si poradila aj so špirálou či očnými tieňmi. Stojí okolo 6€ a vydržala mi vyše dvoch mesiacov.
Čistiace pleťové tonikum od ziaja bolo neparfumované, bez alkoholu a bez farbív. To som použila po odlíčení micelárnou vodou na dočistenie pleti. Je určená na problematickú pleť, no zázraky nerobí. Cenovo je dostupné, skúste, môžno vám s akné pomôže viac 🙂
Čistiaca micelárna voda 2v1 od Yves Rocher čistí a tonizuje pleť, no neodlíči všetok make-up. Je to prírodný produkt, pekne vonia, no zatiaľ nad jeho opakovanou kúpou nerozmýšľam.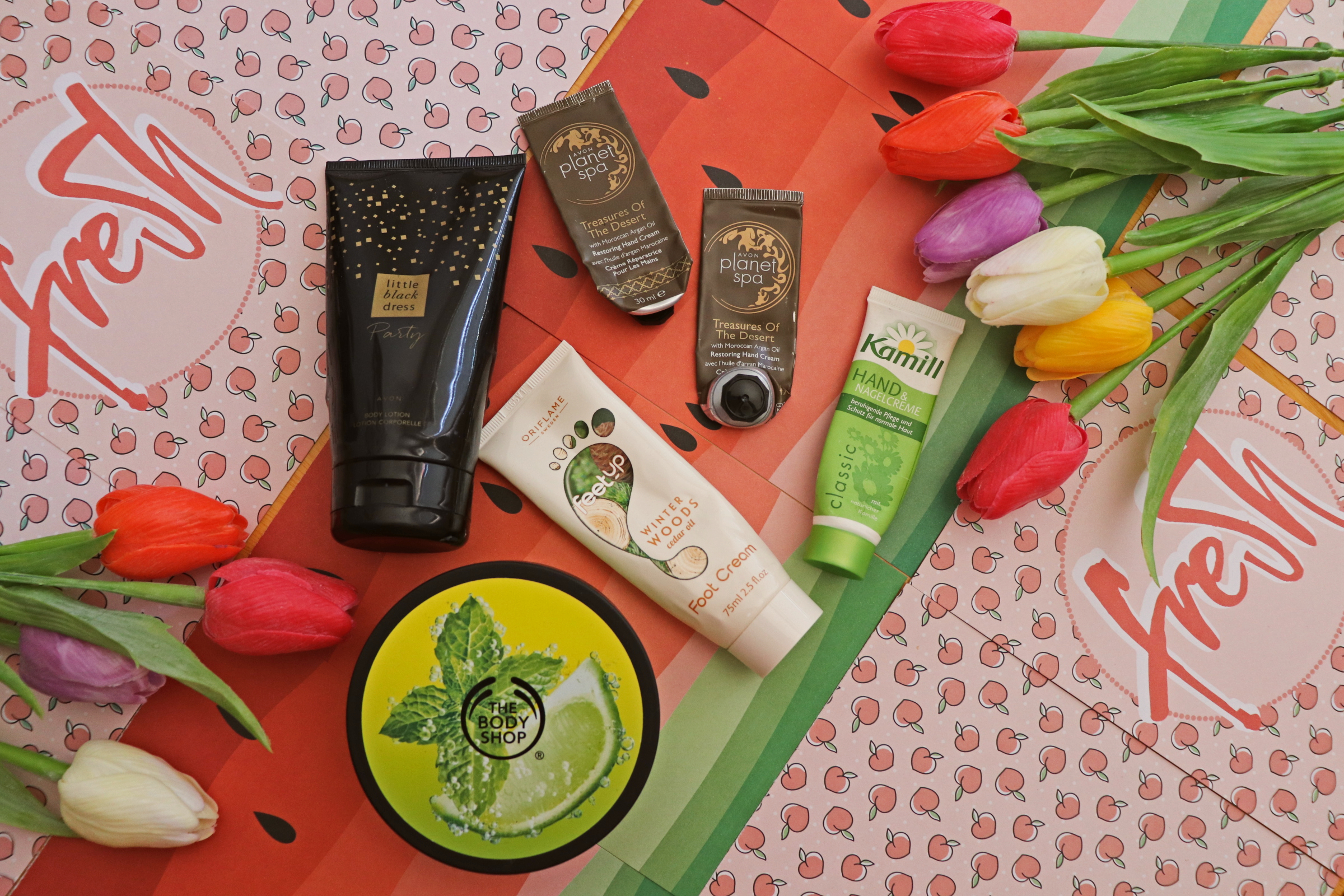 KRÉMIKY A MASTIČKY ♥
Telový krém z THE BODY SHOP s vôňou mojita bola láska. Pokožku som mala ešte dlho po nanesení hydratovanú a jemnú. Krém nevsiakol hneď po aplikácií, takže kto má rád krémy, ktoré sa ihneď vstrebú do pokožky, toto asi nebude preňho. No za mňa veľké áno! 🙂
Telové mieko z AVONu je opačný prípad – po nanesení sa ihneď vstrebe, no hydratácia nebola tak dlhotrvajúca. Mlieko krásne voňalo a pre toho, kto nemá rád mastnú pokožku, je toto správna voľba.
Krém na nohy od ORIFLAME bol podľa mňa krém ako každý iný, no je pravda, že bol hutnejší a po jeho vmasírovaní do pokožky ostali chodidlá jemné a hydratované. Niekedy som to robila tak, že som si nahrubo nakrémovala chodidlá a dala si hrubé ponožky, aby boli nohy v teple a úplne nasiakli. Keď som si dala po niekoľkých hodinách (zväčša som si to dávala na noc) ponožky dole, chodidlá boli priam až "bábätkovské" 🙂
Malé krémiky od AVONu PLANET SPA sú úplne skvelé a keď sú v akcii, kupujem si ich, pretože nádherné voňajú, hydratujú a svojou veľkosťou sú praktické v kabelke, nech idete kamkoľvek. Veľké áno!
Krémik na ruky KAMIL je podobný ako telové mlieko od Avonu – rýchlo sa vstrebe a pekne vonia.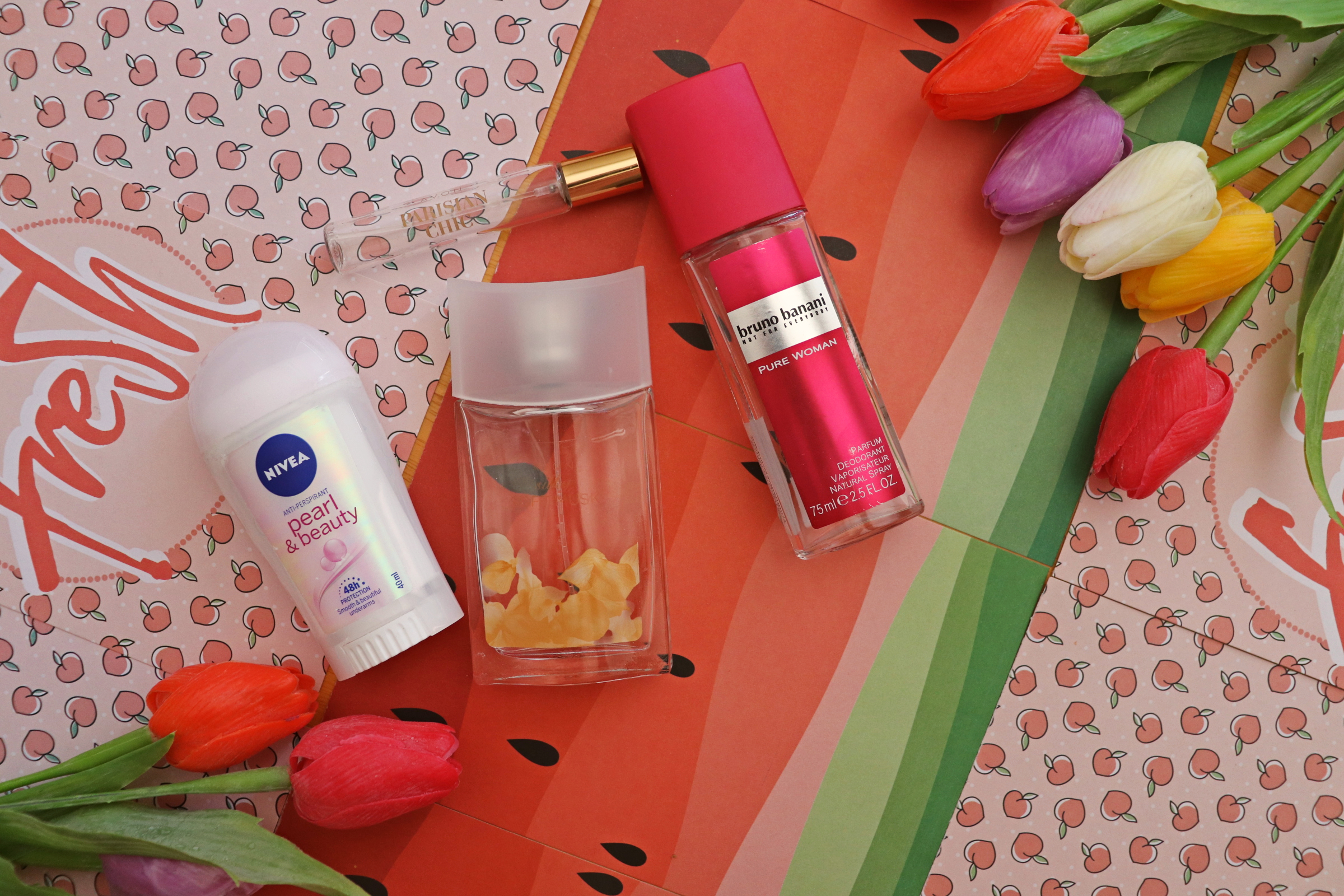 DEODORANT A VOŇAVKY ♥
Tento tuhý deodorant od NIVEI používam už dlho, kupujem si ho dookola no striedam iné vône a ešte nikdy ma "nesklamal". Pekne vonia, nezanecháva biele stopy a ja nesmrdím – to je základ 😀
Vôňa PURE WOMAN od bruno banani som používala vždy po posilke, nevydrží dlho, no na tú chvíľu to bola pekná vôňa a myslím, že ani nie je drahá.
Voňavka silky SOFT MUSK od AVONu je relatívne silná kvetovaná vôňa a celkom dlho vydrží. Samozrejme, každý máme iné preferencie, takže nie každému bude vyhovovať.
Maličká "kabelková" vôňa PARISIAN CHIC od AVONu je krásna, svieža vôňa a mám ju aj vo väčšej verzii, ktorú rada používam 🙂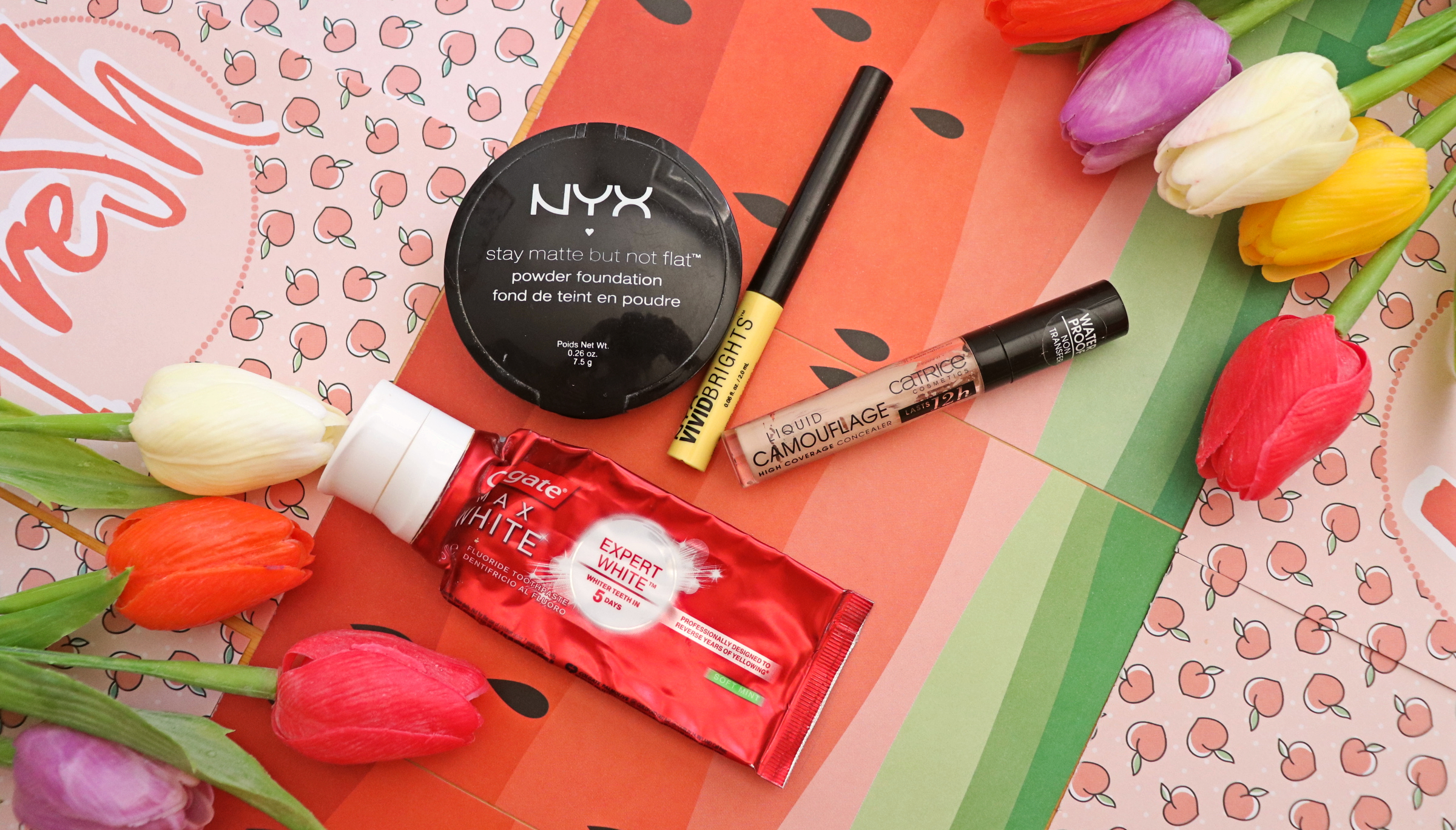 DEKORATÍVNA KOZMETIKA A ZUBNÁ PASTA ♥
Približne rok používam len túto zubnú pastu od Colgate a som s ňou veľmi spokojná. Zuby mám o čosi belšie, dobre chutí a za mňa áno!
Tekutý korektor od CATRICE pozná už hádam každý a kupujem si ho dookola pretože super prekryje, nezaťažuje pleť, je lacný a dlho vydrží. 🙂
Žltá očná linka od NYX bola veľmi pekná, dlho vydržala, bola dosť výrazná, no už mi zaschla. Ale rozmýšľam, že si kúpim ďalšiu – aj keď nie túto žltú, majú aj iné pekné farby.
Púder od NYX v odtieni SMP06 (medium beige) je super. Na to, že mne sa celkom rýchlo mastí pleť, po nanesení tohto púdru som celkom dlho vyzerala "obstojne" , takže už mám kúpený ďalší 🙂
Toľko na dnes odo mňa – ak by ste aj vy chceli niečo odporučiť, či máte podobné skúsenosti so spomenutými produktmi, kľudne zanechajte komentár. Ešte veselý deň! Vaša Mia ♥