maxispotrebovanci a prechod k minimalizmu.
Ahojte! Maxispotrebovancov som robila naposledy v auguste minulého roku. Toto je opäť niekoľkomesačná zbierka, pretože niektoré produkty som vyničila ešte na jeseň minulého roku. Nie sú tu úplne všetky, nakoľko niektoré som hneď po dopotrebovaní vyhodila. Rozdelila som ich do niekoľkých kategórií a prihodila aj krátku recenziu. Samozrejme, že to, čo sedelo mne, nemusí vám a naopak, no kvôli inšpirácii mám takéto typy článkov rada 🙂
No a prečo som práve k maxispotrebovancom nadhodila tému minimalizmus? Uvedomila som si, že mám veľa kozmetiky (teda pre niekoho stále málo), ale keďže s Vikim bývame v minibytíku, mám pocit, že sa tu "zapratávame" a to nechcem. Moji najbližší v okolí vedia, že čo sa týka kozmetiky, je pre mňa rok 2020 rokom minimalistickým (alebo sa o to aspoň snažím). Sčasti mi k tomu dopomohla korona, pretože okrem "sprcháču" som si žiadnu inú kozmetiku nekúpila a ani to nemám v pláne. Reč je prevažne o dekoratívnej kozmetike. Pokiaľ nedoničím to, čo mám, nejdem si nič ďalšie kupovať. Stačí mi jedna špirála a jeden make-up. Rúžov mám veľa, ale pokiaľ ich nevyničím, ďalšie si kupovať nemienim. A takto by som mohla pokračovať, jednoducho, menej je viac a od začiatku roka som si naozaj nič dekoratívne nekúpila a verím, že mi to tak aj vydrží 🙂 a čo vy a minimalizmus v kozmetike?
.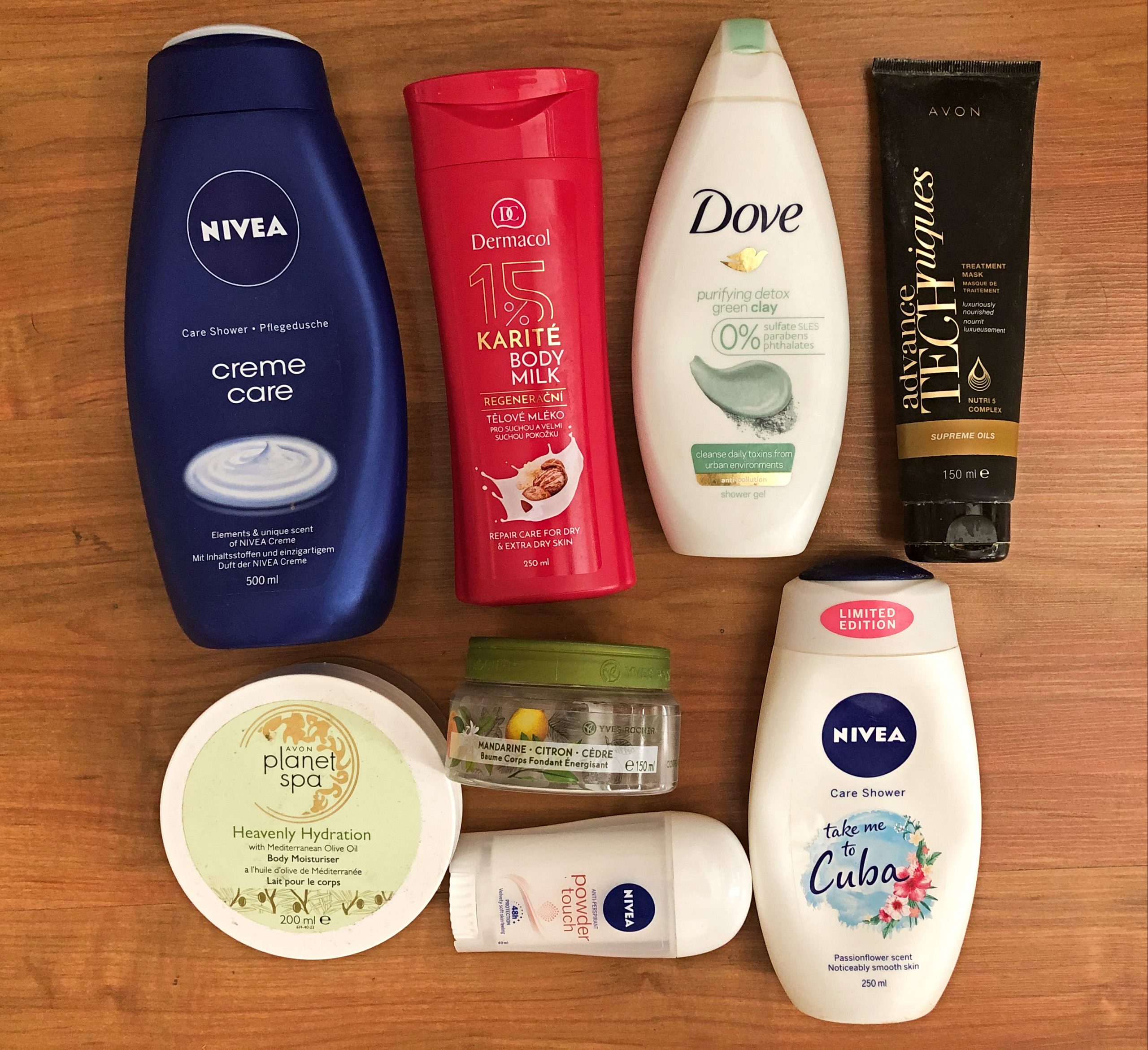 STAROSTLIVOSŤ O TELO
Čo sa týka tejto kategórie, tu nemám ani jeden výrobok, ktorý by bol zlý či nevyhovujúci. Všetky sprcháče krásne voňali a penili, ako mali. Krémy na telo od Avonu, Yves Rocher aj Dermacol sa celkom rýchlo vstrebali do pokožky. Vyživujúca maska s olejmi na vlasy od Avonu bola veľmi príjemná, krásne voňala a zanechala mi vlasy jemné a hebké. A ako posledná vecička – deodorant, ktorý bol posledný ženský, ktorý som dopoužívala, pretože som prešla na mužský od Old spice ( 😀 ) a je super! Tento od Nivei nebol zlý, len tie mužšké sú podľa mňa lepšie.
.
STAROSTLIVOSŤ O PLEŤ
Už veeľmi dlhú dobu s Vikim používame tieto Colgate pasty, ktoré nám chutia a aj máme o čo si belšie zuby. (I keď chcela by som skúsiť bielu perlu a porovnať to). Pomády na pery nosím takmer všade so sebou, pretože nemám rada, ak mám vysušené pery. Tieto boli super. Čo sa týka krémov na tvár, ten od Biodermy som nedopoužívala dokonca, pretože bol na mňa veľmi mastný a ten od Ziaja bol krém pod oči, ktorý som dopotrebovala, ale nejaké zmeny som si nevšimla. Tieto dva čistiace gély boli skvelé a keďže teraz žiaden nemám, možno si jeden zadovážim, pretože po aplikovaní som mala pocit sviežej a čistej pleti. Odporúčam! 🙂
.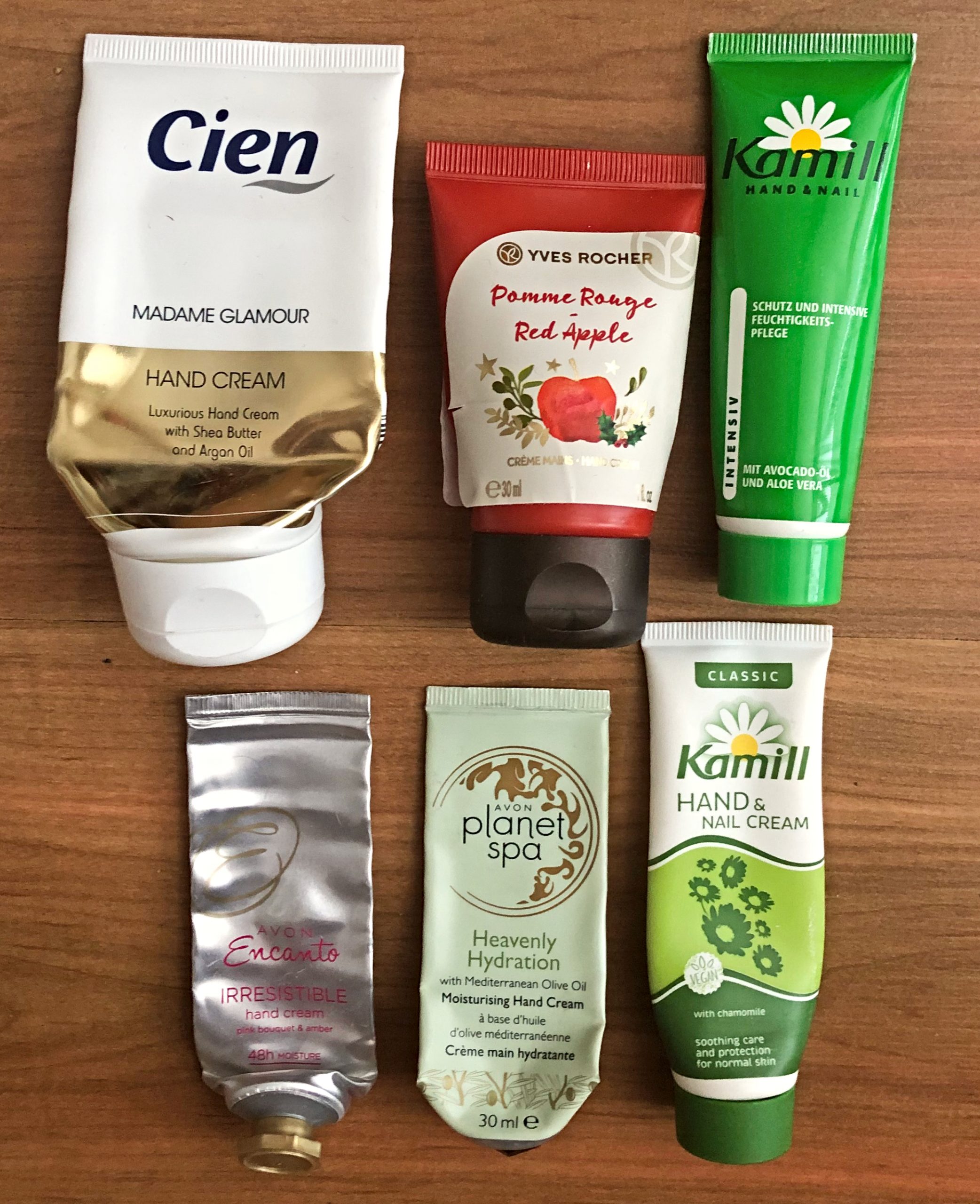 KRÉMY NA RUKY
Tí, ktorí ma poznajú, vedia, že ja krémov nikdy nemám dosť a keď mám suché ruky, som nervózna 😀 Nejako mi je jedno, akú mám značku, hlavne, že budem mať nakrémované ruky. I keď tie od Avonu nádherne voňajú a práve kvôli vôni boli moje obľúbenejšie, no inak boli všetky úplne vyhovujúce. Ako môžte vidieť, preferujem malé balenia, aby som ich mohla hocikam so sebou zobrať. Kamil stojí myslím len niečo okolo 1€ a za tú cenu sa určite oplatí 🙂 A momentálne tiež používam krém od Avonu, ktorý krásne vonia.
.
DEKORATÍVNA KOZMETIKA
Začnem make-upom od NYX, ktorý som dopotrebovala už veľmi dávno, bol v pohode, ale keďže bol tmavý, v zime som ho nemohla používať. No odkedy som objavila tento od Pupy a už používam len tento. Bude to už aj možno 2 roky, čo si ho vkuse kupujem, mohli ste ho vidieť aj v mojich rôznych beauty videách. Nie je úplne krycí, je ľahký a vyzerá prirodzene. Aj momentálne mám jeden otvorený. Špirály od Yves Rocher boli obidve super, krásne riasy predĺžili a vôbec ich nezlepovali. Korektor od Catrice používam už tiež veeľmi dlho, myslím, že ho dôverne poznáte. A ako posledná je táto špirála na obočie od NYX, ktorá bola tiež výbornou kúpou.
.
VOŇAVKY DIEVČAT
Začnem jedinou, ktorá nie je od Avonu a to je ROCHAS PARIS, ktorú mi mamka darovala vypoužívanú už za polovicou, pretože vždy, keď som prišla domov, som sa s ňou voňavkovala, pretože krásne voňala. Tak zmyselne a žensky zároveň. Inak, ja proste neviem opisovať vône, či že ak budete mať v okolí katalóg od Avonu, ovoňajte si ju tam, pretože z mojich opisov by ste veľa nemali 😀 Zbytok a teda: PARIS CHIC, CHERISH THE MOMENT, ATTRACTION boli všetky veľmi pekné a určite sa po nich v katalógu pozrite 🙂
.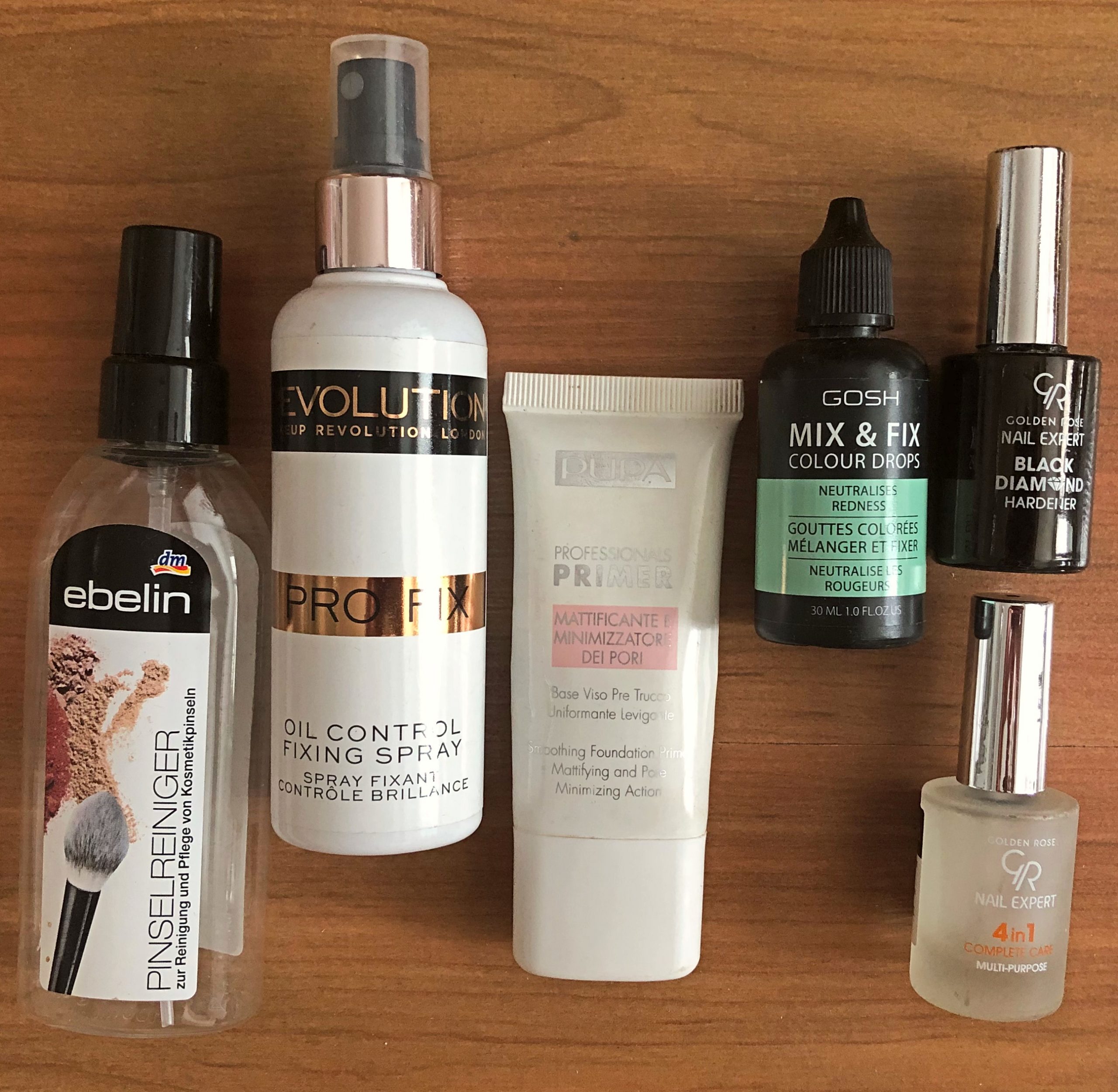 .. A TAKÝ MALÝ MIX
Začnem pekne zľava a to čistiacim sprejom na štetce, ktorý ich poriadne vyčistil, pekne voňal a ja mám teraz jeden z Primarku, no po jeho vyničení opäť siahnem po tomto, pretože ja si štetce celkom často čistím a toto je super pomocník. Fixačný sprej od REVOLUTION make-up pekne zafixoval a aj dlhšie vydržal, nebol lepkavý a vytvoril pekný "glow". Primer od PUPY som nedopoužívala do konca, nakoľko mi nevyhovoval a mala som pocit, že mi upcháva póry. Kvapky pod make-up od GOSH proti začervenanej pleti mi tiež veľmi nevyhovoval, veľmi sušili pleť a v mojej beauty rutine sa viem zaobísť aj bez nich. Tieto dva laky od GOLDEN ROSE som požívala ako podkladové, krásne spevnili nechty, no momentálne používam "obyčajný" od Miss Sporty a som tiež spokojná, pretože každý deň beriem zinok a tak mám nechty same o sebe pevné. No ak máte problém s lámavosťou , skúste tie od Golden Rose 🙂
Táák a to by bolo na dnes odo mňa všetko. Možno som vás inšpirovala ku kúpe nejakého produktu, no skôr sa seba opýtajte, či to naozaj potrebujete, pretože vám kozmetika bude zbytočne "stáť", starnúť a nakoniec ju aj tak vyhodíte. Takže najprv doničiť jedno, potom kúpiť a otvoriť druhé 🙂 Želám vám ešte veselý zbytok dňa! Vaša Mia ♥