Ahojte! Dnes som si pre Vás prichystala letných obľúbencov a rada by som sa s vami podelila o produkty, seriály či knihy, po ktorých sa možno popozeráte aj vy 🙂
Začnem kozmetikou. Ja mám telové spreje veľmi rada a toto leto som celý čas používala IRRESISTIBLE BODY SPRAY od Avonu, ktorý som mala vždy so sebou a len tak hocikedy cez deň som si ho na seba nastriekala. Má krásnu ženskú vôňu a ako aj uvidíte na fotke, už mám len kúsok na dne, takže bol super.
SCENT – SATIONAL PROTECT CONDIDIONING MIST od Aussie vonia úplne dokonalo, vlasy sú po ňom jemné a lepšie sa mi rozčesávajú. Je to jediný sprej, ktorý používam na vlasy a určite ho odporúčam.
Myslím, že každý bol na slniečku aspoň trošku a tým pádom je hydratácia veľmi dôležitá. Ja som počas leta používala HYDRATAČNÉ MLIEKO PO OPAĽOVANÍ od Astrid. Rýchlo sa vstrebe, má jemnú sviežu vôňu a som rada, že som siahla práve po tomto mlieku.
Korektor od CATRICE predstavovať bližšie nemusím, pretože ho asi každý pozná. Ja som vždy používala odtieň 010, no teraz počas leta som siahla po 020 a zakryje všetky mini nedokonalosti (ktorých mám ja, chvalabohu, oveľa menej, ako som mala niekedy, no update ohľadom akné bude na konci septembra). Ako sa hovorí – za málo peňazí veľa muziky 🙂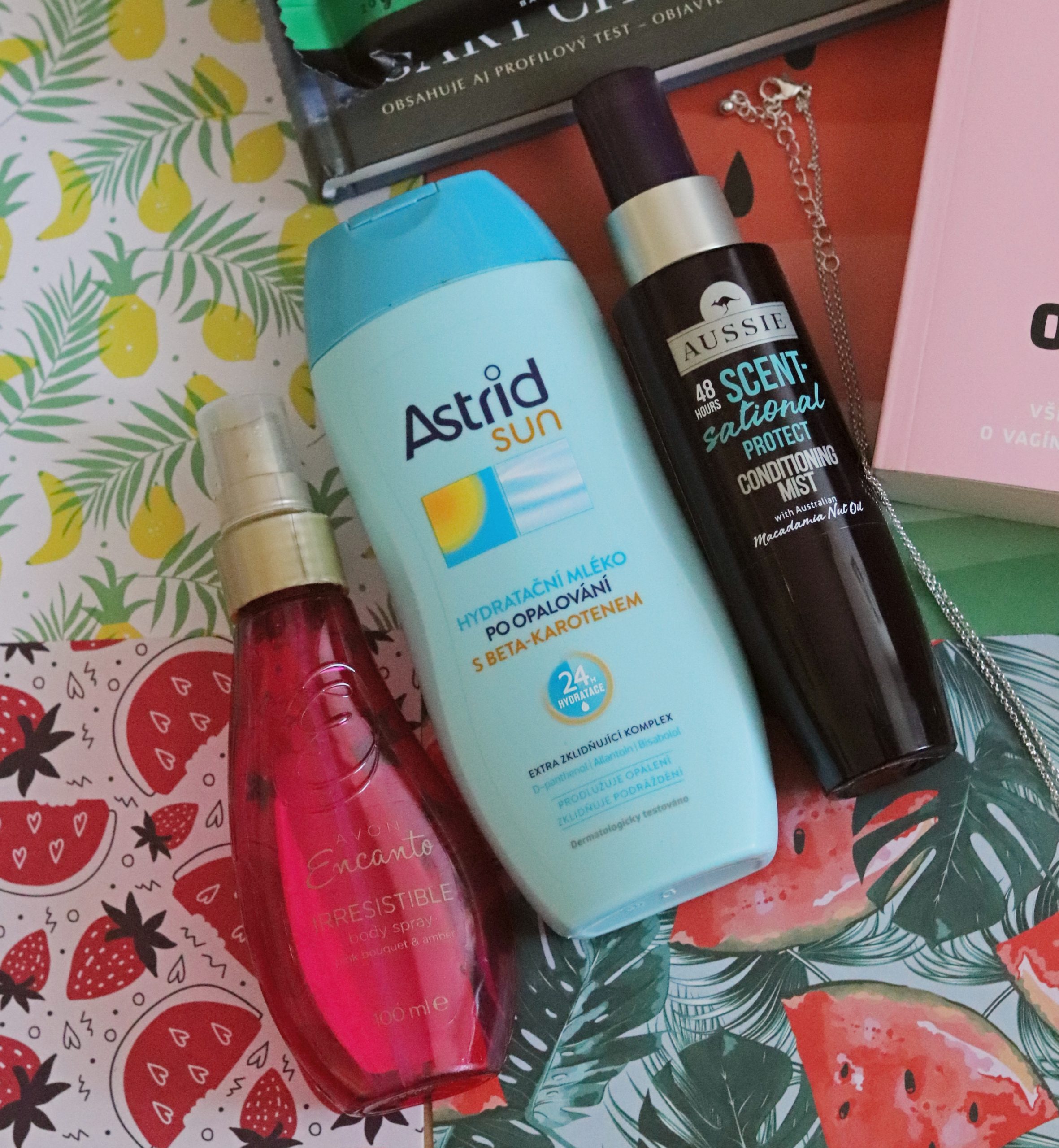 Od kozmetiky sa presunieme k jedlu a dajme si niečo pod zub. Pamätáte, ako som Vám na mojom instagrame ukazovala, čo mi prišlo od MUSCLE AGGRESSIVE? Povedala som vám, že vám dám vedieť, ako produkty chutia. U mňa je na prvom mieste PROTEINELLA, ktorá chutí veľmi podobne ako normálna nutella. Či už si ju dáte na palacinku, na chlebík alebo do kaše, je to na vás. LIFELIKE KOKOSOVÉ MASLO tiež super ochutí vaše jedlo. Kto má rád kokos, toto j určite preňho. A ako posledné z tejto kategórie tu mám proteínové tyčinky, či už tie od BAREBELLS alebo BIG BITE, obidvoje sú chutné a zahnajú chuť na sladké.
Ak ma sledujete na instagrame, asi ste si všimli, že som toto leto podľahla prsteňom. Veľmi sa mi to páči, doladia každý outfit a určite si svoju zbierku plánujem rozšíriť. Čo som si kúpila mimo prsteňov je krásny jednoduchý náhrdelník v znamení blížencov a úplne ho zbožňujem, pretože so znamením sa úplne stotožňujem. Minimalistické, ale krásne. Mám ho z TALLY WEIJL.
Ako predposlednú kategóriu tu mám knihy a seriály, ktoré som počas leta čítala a videla. Hodím vám sem len názvy, pretože obsahy si viete nájsť aj sami, nič nové nevymyslím, no každopádne, všetky vám vrelo odporúčam! 🙂

KNIHY:
Gary Chapman : 5 JAZYKOV LÁSKY
Nina Brochmann & Ellen Stokken Dahl : BEZ HANBY O OHANBÍ
Ivica Ďuricová : ZLATÉ PUTO
Mark Manson : VŠETKO JE V PI*I
Sineád Moriarty : DOBRÁ MATKA
SERIÁLY / FILMY
TRINKETS II.
THE I-LAND
HOW TO SELL DRUGS ONLINE (FAST) II.
LOVE ON THE SPECTRUM
100 HUMANS
EUROVISION (film)
THE PLATFORM (film)
A na záver tu mám zopár letných outfitov. Verím, že sa Vám článok páčil a majte ešte veselý deň! Vaša Mia ♥