zdravá a jednoduchá hokkaido polievka.
Ahojte! Dnes som si pre vás pripravila tématický recept a to tekvicovú polievku! 🙂 Nadpis článku znie tak japonsky, ale hokkaido je druh tekvice, ktorý sa v poslednej dobe stáva čoraz populárnejší. Teda aspoň ja som pred takými 5 rokmi názov "hokkaido" určite nikde nepočula 😀 Rada ochutnávam nové veci, tak som si sama sebe dala výzvu, keď som ju videla v Lidli, že mohla by som po prvýkrát urobiť tekvicovú polievku aj ja. Párkrát som ju už jedla a veľmi mi chutila. Tekvica môže byť varená, pečená, grilovaná, na internete nájdete veľa spôsobov prípravy, ale ja som si ho prispôsobila mojim ingredienciám, ktoré som doma našla a musím sa pochváliť, že mi naozaj vyšla 🙂 (hneď po urobení si priateľ dal dva taniere 😀 )
Budeme potrebovať:
hokkaido tekvicu
200 ml biely jogurt
mleté čierne korenie
soľ
kari korenie
vegetu
3 mrkvičky
cibuľku
olivový olej
vodu
Postup:
1. Ako prvé si vydlabeme tekvicu. (poviem vám, že to bola riadna makačka a trvalo mi to trištvrte hodiny 😀 ak ste mladší, poproste niekoho o pomoc) a nakrájame ju na kocky. Mne vyšlo kilo nakrájanej tekvice.
2. Cibuľku a mrkvu si taktiež pokrájame.
3. Do hrnca si nalejeme kúsok olivového oleja, opražíme cibuľku, pridáme mrkvu a po približne 2 minútkach aj tekvicu, sprudka opražíme, pomiešame všetko dokopy a zalejeme vodou tak, aby v nej boli všetky suroviny ponorené.
4. Ochutíme koreninami a necháme vrieť, kým hokkaido nezmäkne. (mne to trvalo 20 minút)
5. Odstavíme hrniec z ohňa, chvíľu mixujeme, pridáme jogurt a mixujeme ďalej, kým nebude taká fajná krémová 🙂 Ak sa vám zdá, že je málo dochutená, kľudne si ju dochuťte, ako pasuje vám. Prípadne si môžte v druhom hrnci uvariť zopár zemiačikov, ak sa z nej chcete viac najesť 😀 A ešte aby som nezabudla, na obrázku je aj mandľové mlieko, ale netrebalo mi ho, pretože to bolo pre mňa husté akurát, ale ak obľubujete redšiu konzistenciu, pridajte viac mliečka (hocijakého) , či vody.
6. Na tanieri si nasypeme slnečnicové či tekvicové semiačka a môžme sa smelo pustiť do nej! Dobrú chuť! 🙂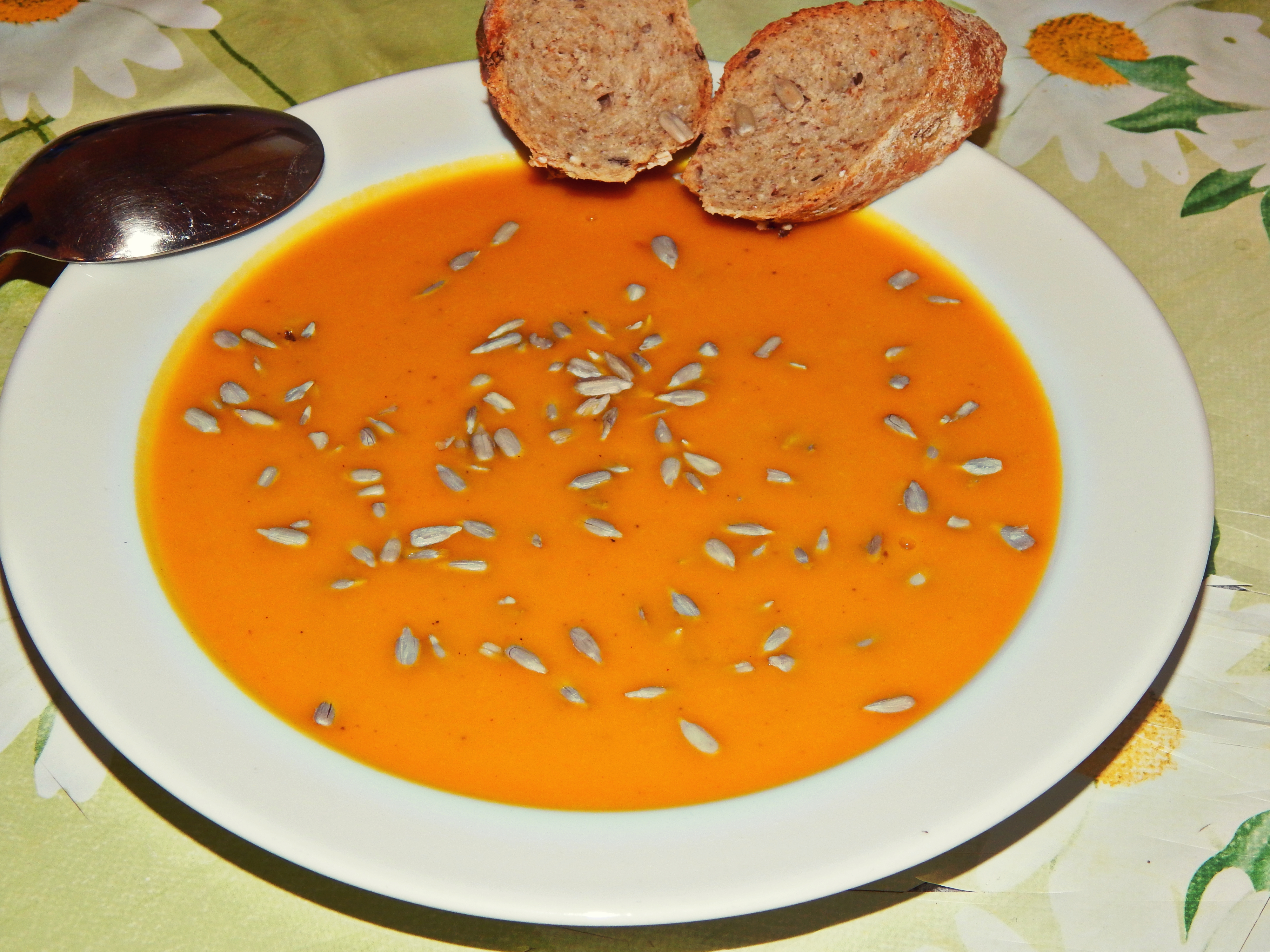 P.S Toto je 60-ty príspevok tu na mojom blogu 🙂 Ďakujem všetkým, ktorí ma čítajú a články ich bavia. Veľmi sa teším a verím, že vás bude pribúdať. Ešte krásny slnečný deň! 🙂