cesta za pleťou bez akné VI.
Ahojte! Taak a prešli nám ďalšie 3 mesiace, odkedy som koncom roka 2020 robila UPDATE. Sú veci, ktoré sa nezmenili, no mám zopár noviniek, ktoré mi pribudli v mojej rutine a tak sa mi pomenila. Keď si spätne pozerám a čítam články z tejto rubriky, tak si hovorím: páni, ten čas ale letí a ako sa mi pekne akné zlepšuje, čím všetkým som si prešla, aby som mohla byť dnes tu. Moju cestu za pleťou bez akné s vami zdieľam od začiatku roka 2020, čo znamená, že cesta nebola vôbec krátka, ale výsledky a zlepšenia ma posúvajú vpred. A preto – ak si aj vy prechádzate niečím podobným, nevzdávajte sa a i keď je to klišé, ja som príkladom, že pomalými krokmi sa to zlepšuje a radšej takto, ako sa zbaviť akné za 3 mesiace a potom sa všetko vráti späť. (i keď nevylučujem aj túto možnosť, že niekomu to môže zafungovať) Aj keď ja nemám ešte výsledky, aké by som chcela mať, no za cca 15 mesiacov som nikdy nebola tam, kde na začiatku, čo ma enormne teší. Ale aby som zas veľa nepísala, poďme rovno na moju rutinu! 🙂
NOVÁ KOZMETIKA, RESP. KOZMECEUTIKÁ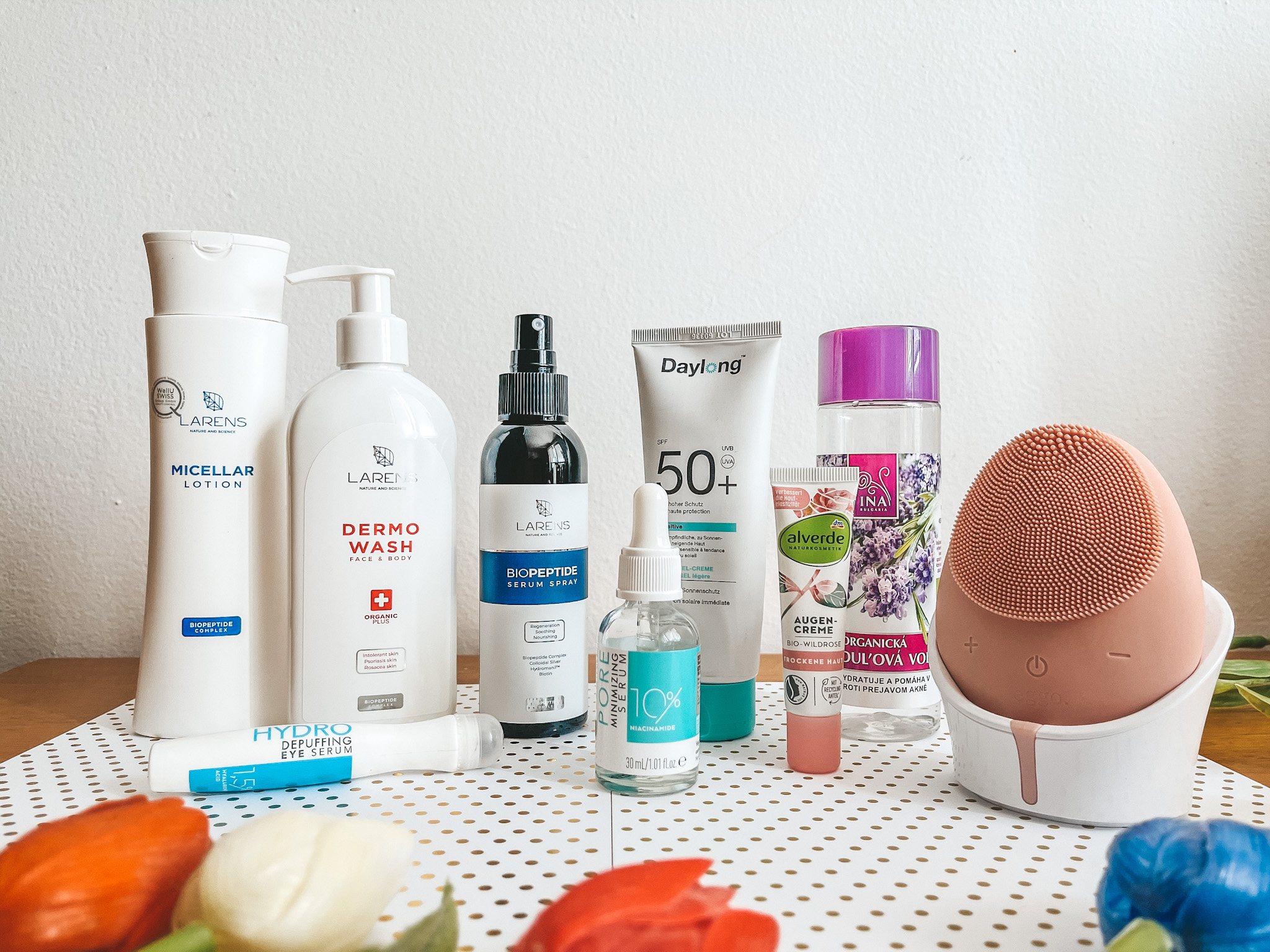 Čo je v mojej rutine úplne nové, sú kozmeceutiká od LARENS. Budem úprimná, keď vidím na instagrame značky ako túto či iné LR firmy, som voči tomu veľmi skeptická, no po prečítaní rôznych recenzií a aj tým, že moja kozmetička túto kozmetiku používa, som sa predsa len rozhodla, že to skúsim. Ak si pamätáte, predtým som používala CeraVe, čo bola tiež skvelá značka a mala som pocit, že LARENS je veľmi drahá kozmetika, no po porovnaní týchto dvoch značiek tam nie je obrovský cenový rozdiel a keďže som CeraVe dopoužívala, povedala som si, že po cca pol roku skúsim niečo iné. Vybrala som si micelárnu vodu, čistiaci gél a ich bestseller peptidový sprej. Tieto kozmeceutiká používam niečo vyše mesiaca, zatiaľ som veľmi spokojná a moja pleť si tieto produkty veľmi obľúbila.
Čo používam naďalej, je sérum pre minimalizáciu pórov od CATRICE, ktoré je veľmi príjemné, rýchlo sa vstrebe a vyhovuje mi. Nakoľko už začínajú jarné, až letné dni – netreba zabúdať na SPF faktor a preto sa v mojej rutine nachádza aj Daylong Sensitive krém s ochranným faktorom, ktorý si ale momentálne dávam iba, ak idem do obchodu alebo na prechádzku, čiže nie každý deň. Ďalšou novinkou, ktorú používam od Vianoc je organická levanduľová voda od Inaessentials, ktorá moju pleť ukľudní a pôsobí protizápalovo. Možno niektorým nebude úplne voniať, ale výsledky určite uvidíte. Mám od nich aj organickú vodu z medovky pre citlivú pokožku, ktorú používam na vlasy a mám ich hebké a tiež som s produktom spokojná.
Hydratačné očné sérum od CATRICE mám v mojej rutine už niekoľko mesiacov a ráno je to veľmi príjemné na opuchnuté oči. Rozhodla som sa, že začnem používať aj očný krém a vybrala som si tento s bio divou ružou od ALVERDE, ktorý je super hydratačný, nie veľmi parfumovaný a za necelé 4€ to bola skvelá kúpa. No a toto sonické zariadenie na čistenie tváre EGGO GLOW ste už určite na sociálnych sieťach videli. Ja ho mám v rutine od Vianoc a som s ním veľmi spokojná. Je pravda, že ho nepoužívam každý deň, ale tak 3-4krát do týždňa, pretože mám pocit, že by mi to potom zbytočne vysušovalo pleť. Ale ak ho máte a používate ho každý deň, vyhovuje Vám to takto, je to tiež v poriadku. Podľa mňa robí to isté ako foreo, no je za oveľa prijateľnejšiu cenu. Nabijete ho a používate ďalej. Je veľmi príjemný na pleti, viete si nastaviť intenzitu a je v troch rôznych farbách.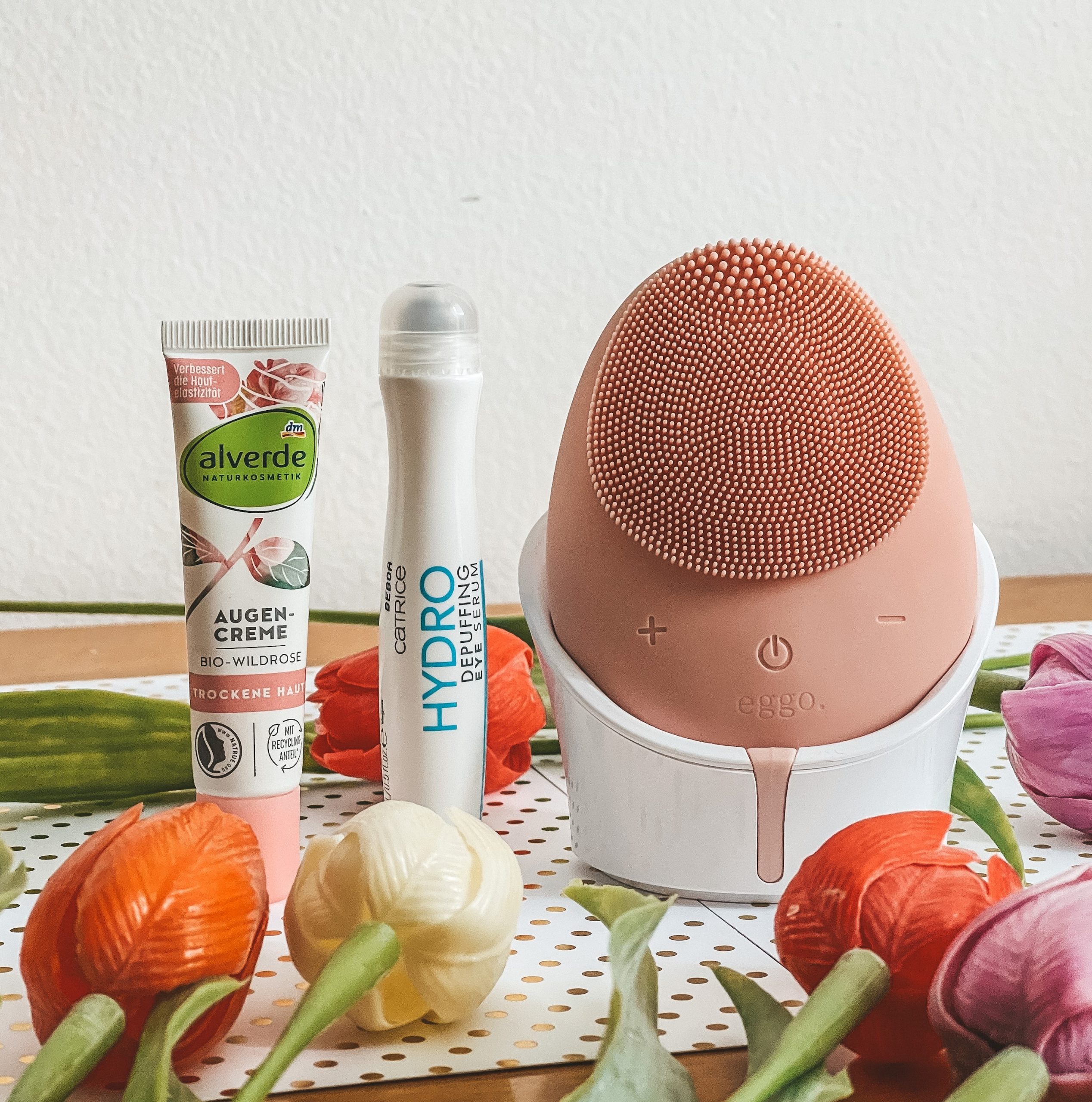 SKIN CARE RUTINA
Ako teda vyzerá moja rutina v krokoch?

1. Pleť si odlíčim micelárnou vodou a následne si pleť umyjem čistiacim gélom. (ako som spomínala, pár krát do týždňa používam aj egglo glow na lepšie a hĺbkovejšie čistenie pleti)
2. Pleť si dočistím levanduľovou vodu, po cca 3 minútkach si na celú pleť nastriekam peptidovým sprejom a nechám pôsobiť.
3. Nanesiem si sérum. Ak je ráno, pred očným krémom si aplikujem aj očné sérum od Catrice, ak je večer, stačí mi len očný krém.
4. Opäť počkám cca 10-15 minút a ako posledný krok je krém, ktorý som zabudla odfotiť, ale prikladám ho do koláže na konci článku a je to hydratačný krém od THE ORDINARY, ktorý je úplne skvelý, hydratačný a veľmi mi vyhovuje.
5. Inak, peptidový sprej používam aj len tak hocikedy cez deň, keď idem okolo poličky s kozmetikou. Krásne vonia a je protizápalový.
STRAVA, VITAMÍNY A ZHODNOTENIE
Čo sa týka stravy, nemám obmedzenia, že by som napríklad nepila mlieko alebo vôbec nejedla sladké. Jem vlastne všetko, no snažím sa s mierou. Keďže tu máme už apríl a verím, že v lete pôjdem niekam na kúpalisko, po Veľkej Noci by som si chcela upraviť jedálniček a obmedziť sladké či pečivo na minimum. Stále mám pri sebe pohár vody, takže pitný režim viac-menej dodržiavam. Každý deň beriem zinok a vitamín D.
Ako uvidíte na fotkách, rozdiel po roku nie je nejaký markantný, skôr ide o to, že som sa postupne zbavila aj červených fliačikov, ktoré mi po akné ostali. Už, chvalabohu, takmer vôbec nemávam hnisavé vyrážky, sem-tam sa niekde jedna menšia pred menštruáciou urobí, no skôr musím "popracovať" na odstránení tých fliačikov a jazvičiek. Ak Vás zaujíma celá moja cesta či fotky, ako moje akné vyzeralo na začiatku, stačí si kliknúť na odkazy pod článkom. Ak máte nejaké rady, ako na zbavenie sa červených fliačikov či jazvičiek, sem s nimi, budem veľmi vďačná. Majte ešte veselý deň. Vaša Mia! ♥