cesta za pleťou bez akné IV.
Ahojte! Vítam Vás pri štvrtom pokračovaní tejto série, kedy zhodnotím júl, august, september. Hneď na začiatok by som povedala, že toto nebude veľmi dlhý článok pretože veľa vecí sa nezmenilo. Ak Vás zaujíma moja cesta od začiatku, kliknite TU.
KOZMETIKA – SKINCARE RUTINA
Niekedy na konci júna som začala používať kozmetiku CeraVe – micelárnu vodu a čistiacu emulziu. Čo sa týka micelárky, mám už iba kúsok na spodku, čo znamená, že ju budem meniť, no emulziu mám ešte stále dosť. Moja aktuálna skin rutina: RÁNO aj VEČER – pleť si vyčistím CeraVe micelárnou vodou a dočistím CeraVe hydratačnou čistiacou emulziou, aplikujem The Ordinary Niacinamide (Vitamín B3) 10% + Zinc 1% a nakoniec The Ordinary Natural Moisturizing Factors + HA. Každý deň (ak nezabudnem) papám zinok.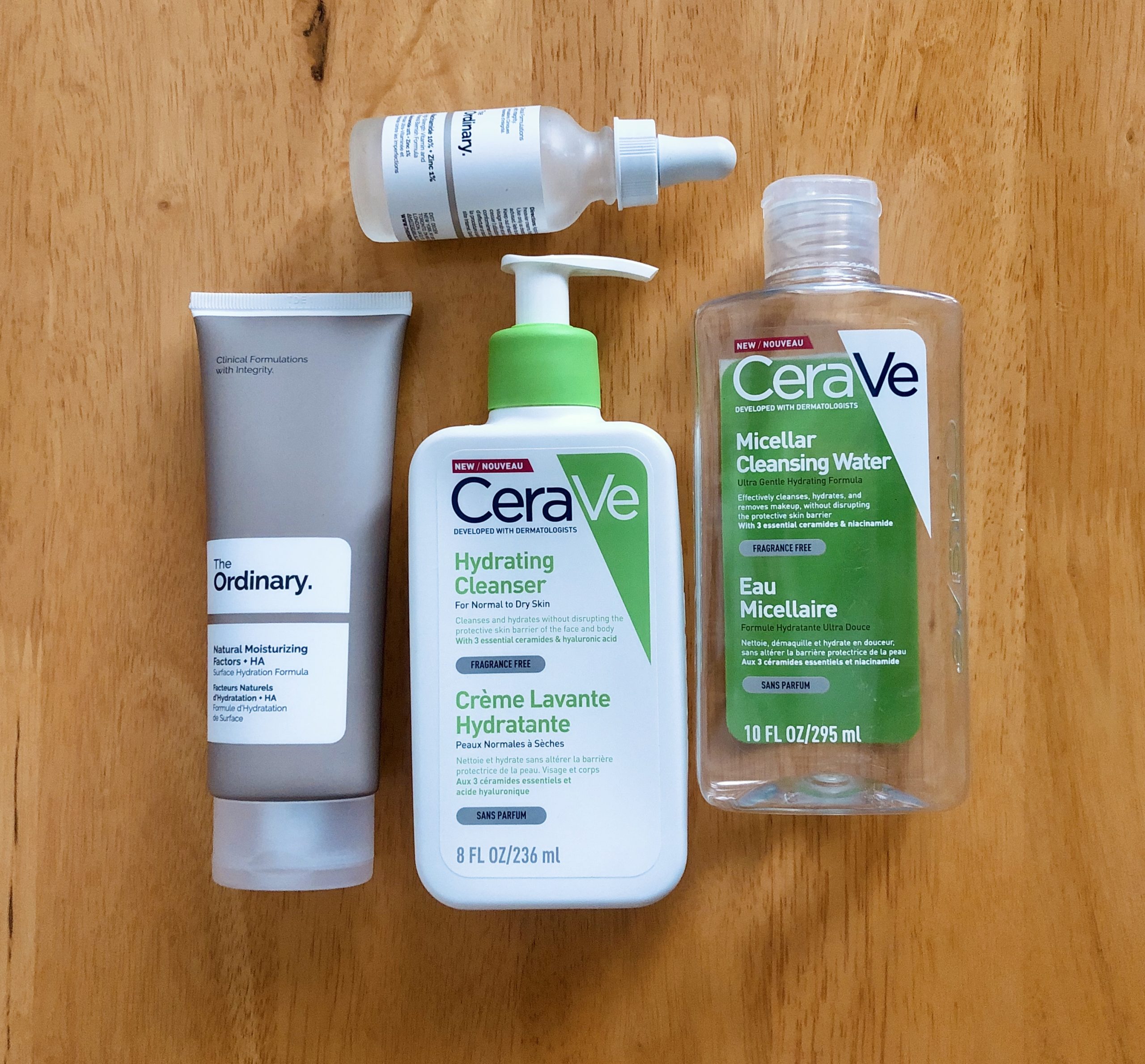 STRAVA, BRIGÁDA, ZHODNOTENIE
Čo sa týka stravy, laktózu prijímam, neobmedzujem ju a ak mám byť úprimná, nejaký zdravý jedálniček nedodržiavam. Dám si sladké takmer každý deň – nie veľké množstvá, ale dám. Celé leto som robila čašníčku, čo znamená, že ak som robila celé dni, jedla som veľmi nepravidelne, niekedy len dva krát do dňa. No teraz, keď začala škola, chcela by som sa polepšiť a prejsť na peknú zdravú pravidelnosť. Brigáda súvisí aj s tým, že som vždy na každej smene nosila rúško, čo moja pleť zvláda asi tak ako sa cez to v horúcich dňoch dýcha – ťažko. No nikdy si nedávam žiaden make-up, pretože už aj tak sa pleti ťažšie dýcha. Maximálne si namaľujem oči. (nič iné mi ani nevidno 😀 ).
Ak by som to mala zhodnotiť, moja pleť je na veľmi dobrej ceste sa vyliečiť úplne. Ešte dávnejšie som spomínala, že by som chcela ísť na nejaké čistenie pleti či iný kozmetický zákrok a stále nad tým rozmýšľam. Či som sa pre niečo rozhodla, uvidíte v decembri. Taktiež idem trochu pomeniť kozmetiku, uvidím, ako moja pleť zareaguje. Ešte pridám fotky pre porovnanie a prajem Vám ešte veselý deň! A pamätajte, že hanbiť sa môžte za zlé správanie, ale nie za svoje akné. To sa dá vyliečiť, ale charakter už ťažšie. Vaša Mia ♥