cesta za pleťou bez akné III.
Ahojte! Tak a prešli nám opäť 3 ďalšie mesiace na to, aby som vám ukázala "update" mojej tváre. Až pri písaní tohto článku som si uvedomila, že páni, ten čas ale letí a zajtra tu máme 1.júl. Ale o tom možno v inom článku, poďme sa pozrieť na moju pleť! 🙂 Ak vás zaujíma, čo všetko som od začiatku roka podstúpila, prečítajte si prvú a druhú časť.
KROKY, KTORÉ SOM CHCELA PODNIKNÚŤ
OD MARCA DO TERAZ
Nakoľko tie najväčšie a najhlavnejšie procedúry a vyšetrenia som už podstúpila, počas týchto troch mesiacoch som chcela zájsť za kožnou, no ešte som si na to nenašla čas, pretože domov nechodím často a ak áno, je to len na skok, takže si to dávam do "to-do listu" do ďalšieho updatu. A čo sa týka kozmetického zákroku, rozhodla som sa, že to nechám na jeseň, či už kvôli tomu, že po niektorých procedúrach sa treba vyhýbať slnku a taktiež si na to ešte musím trošku našetriť 🙂
STRAVA
Nedržím žiadnu diétu, či nejakú špeciálne upravenú stravu kvôli akné, nakoľko mi na alergiológii zistili, že na nič nemám alergiu, nie je teda dôvod. Čo stále dodržujem je, že približne 80% mliečnych výrobkov prijímam v bezlaktózovej forme, ale dám si kávu či tvaroh aj s laktózou, pretože si zbytočne nechcem vytvoriť intoleranciu. Stále sa snažím stravovať zdravšie, i keď počas korony to bolo ťažké ( 😀 ), ale teraz, keď mám opäť brigády a oveľa viac pohybu, viem si to lepšie regulovať 🙂
KOZMETIKA A STAROSTLIVOSŤ O PLEŤ
Približne do konca mája bola moja rutina stále rovnaká ako v marci. Skladala sa z Biodermy, retinolu, krému. Začiatkom júna som ale doničila Biodermu, prišiel mi Niacinamide a objednala som si CeraVe kozmetiku a tak teda moja rutina vyzerá nasledovne: ráno si pleť vyčistím CeraVe micelárnou vodou a dočistím CeraVe hydratačnou čistiacou emulziou, aplikujem The Ordinary Niacinamide (Vitamín B3) 10% + Zinc 1% a podľa počasia si dám buď iba The Ordinary Natural Moisturizing Factors + HA alebo aj Daylong Sensitive SPF 50+. Večer sa moja rutina mení len v zmene séra a namiesto Niacinamidu si dám The Ordinary Retinol 0.2% v skvaláne. Každý deň papám zinok a od zajtra beriem ešte posledných 10 dní ACNEVAC. Zatiaľ mi CeraVe vyhovuje, čiže moju rutinu v najbližšom čase určite meniť neplánujem.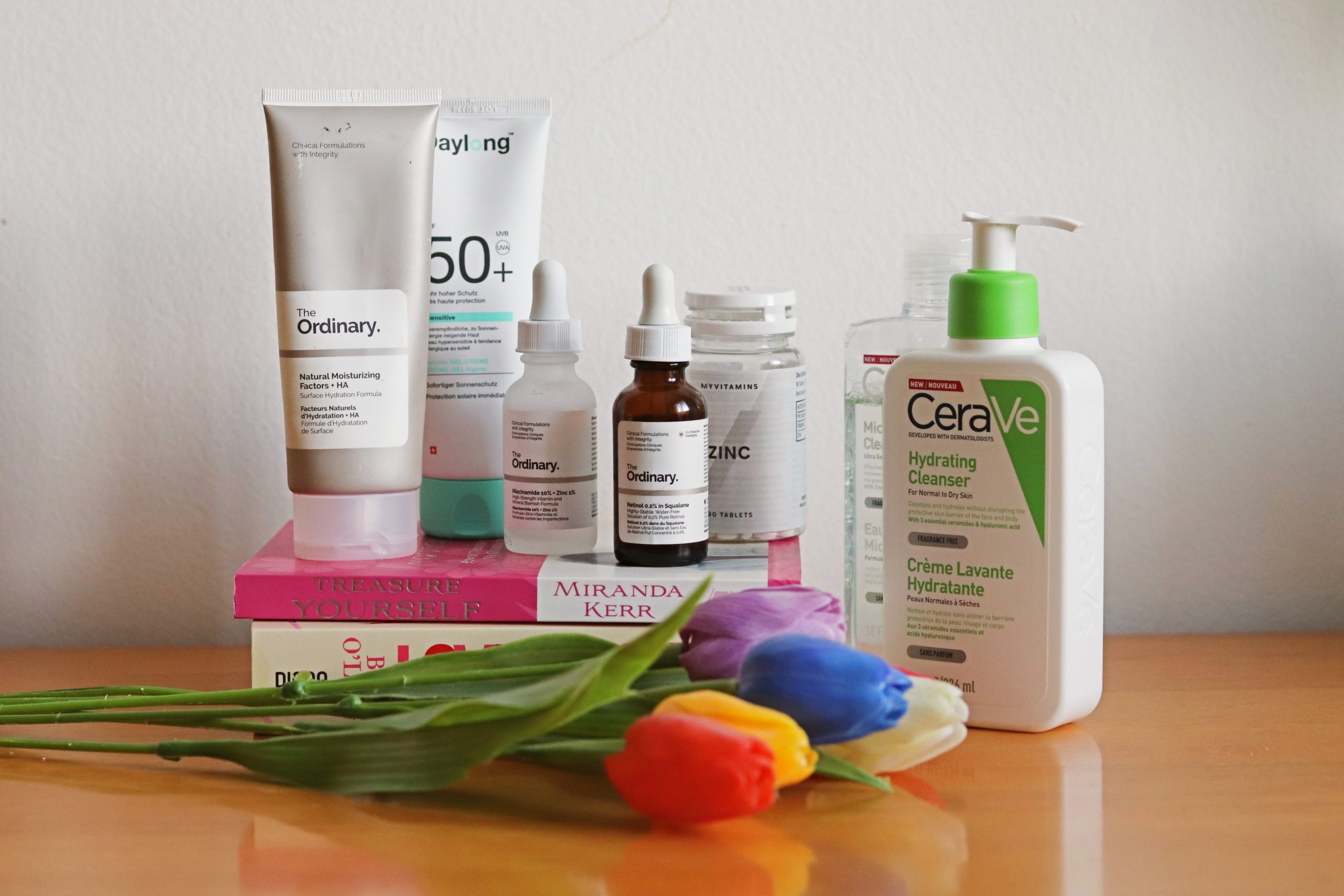 ZHODNOTENIE
Skromne by som rada zhodnotila, že moja pleť je na dobrej ceste a počas karantény bola vrámci možnosti tip-top, ale teraz, keď som začala chodiť na brigády a všade musím mať rúška, niekedy aj celé dni, tak moja pleť to nezvláda asi tak ako ja ( 😀 ), čiže mám horšie a lepšie dni, no (musím poklopkať) ani v horších dňoch to nie je ani zďaleka tak hrozné, aké to bolo v decembri. Uvidím, čo prinesie leto, slnko, nová kozmetika a ja sa vám opäť ozvem v septembri! Vaša Mia ♥