busy bee jedinečné sviečky.
Ahojte! Ako som už v minulom článku naznačila, tento článok som chcela vydať už minulý týždeň, ale nakoľko bol krásny jarný deň, hneď som to využila na nafotenie môjho prvého outfitu v tomto roku a myslím, že som urobila dobre, pretože ako sa tak pozerám von oknom, máme tu opäť zimu! Ja mám rada toto ročné obdobie, mám rada aj sneh, ale nie takmer koncom marca, kedy už by som na seba najradšej dala šaty, sukňu a kabátik. Verím, že sa počasie budúci týždeň umúdri 🙂
Pred niekoľkými týždňami bola na instagramovom účte kouzlokupele.cz vyhlásená súťaž o ich voňavé produkty, ak pridáte komentár a začnete sledovať ich profil. Ja sa do súťaží zapájam bežne, ale stále si poviem, či pri toľkých ľuďoch, ktorí sa zapoja, je veľmi málo pravdepodobné, aby sa šťastie usmialo práve na mňa. Ja som na to moje zapojenie aj nejako zabudla a o pár dní na to ma označili v príspevku, že som vyhrala ich súťaž!! Zo 645 komentárov práve ja! Veľmi som bola šťastná a už som sa nevedela výhry dočkať, nakoľko ja sviečky milujem ♥ Pálim ich veľmi často, zbožňujem, keď prevoňajú celý byt, krásne vyzerajú a dodajú útulnú atmosféru.
Stránka kouzlokupele.cz , respektíve ich rodinná spoločnosť Busy Bee Candles (špeciálne upravená malá farma vo Walese) ponúka produkty, ktoré sú vytvorené ručne pomocou prírodného sójové vosku a najlepších éterických olejov. Na výber je vyše 200 vôní. Busy Bee Candles sú vegánske a 100% prírodné produkty, ktoré neobsahujú parafín ani iné ropné produkty. Vďaka tomu by mali horieť oveľa dlhšie ako klasické sviečky.
Už predtým som na ich stránke niekoľkokrát bola "poobkukávať" ich produkty, pretože sa mi ich koncept veľmi páči, no ale k takejto lepšej kvalite patrí aj vyššia cena a preto som sa veľmi tejto výhre potešila. Predčasný darček k meninám 🙂 Ďakujem kouzlokupele! ♥ A teraz poďme k samotným produktom 🙂
Začnem kategóriou "fazuľky", s ktorými som sa pri iných značkách zatiaľ ešte nestretla. Toto menšie balenie obsahuje 5 takýchto "fazuliek", ktoré môžte kombinovať z rôznymi inými vôňami a vytvoriť si perfektnú a originálnu atmosféru podľa seba! Kontkrétne so Snow Berries sa prenesiete do zimného lesa s lesnými ovocím. Jemná a pritom výrazná vôňa. Mne sa veľmi páči, ale šetrím si ich na koniec roka, kedy bude táto kombinácia úplne ideálna 🙂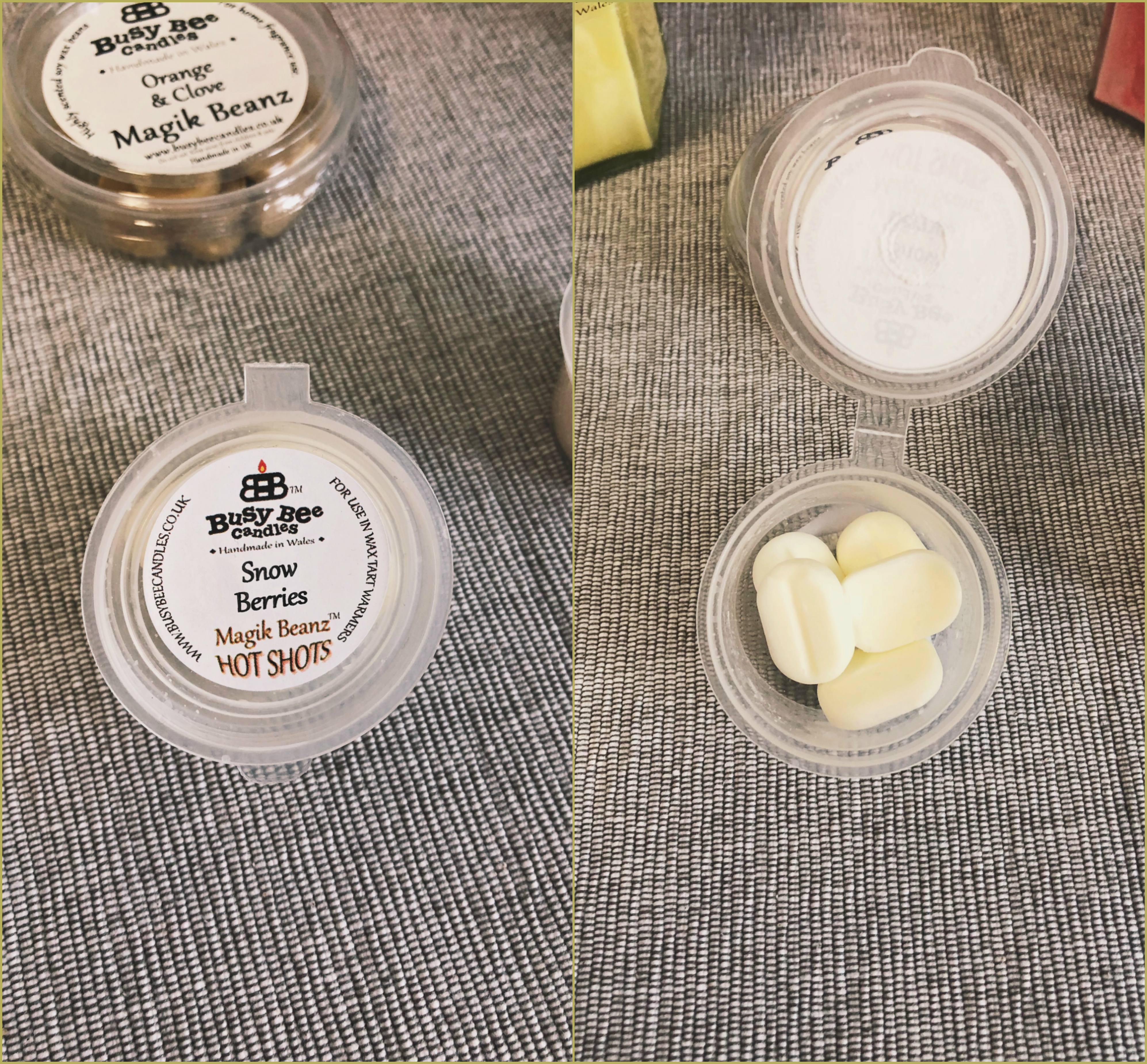 Butterscotch Bliss je veľmi sladkastá vôňa, pretože má vám pripomínať chuť sladkých maslových karameliek. Niekedy mám pocit, že keď mám chuť na niečo sladké, kľudne mi stačí sa nadýchať tejto vône a chuť ma rýchlo prejde, pretože je tak intenzívna 😀 No mne táto vôňa vyhovuje 🙂 Super je, že toto balenie vám vydrží až 12 hodín!
Väčšie balenie obsahuje 15 takýchto "fazuliek". Lemon Drizzle je silno prenikavá citrónová vôňa spojená s drevinami, ktorá si ma hneď získala, pretože nie je ani veľmi sladká ani ostro citrónová. Príjemne prevonia izbu a u mňa je favorit 🙂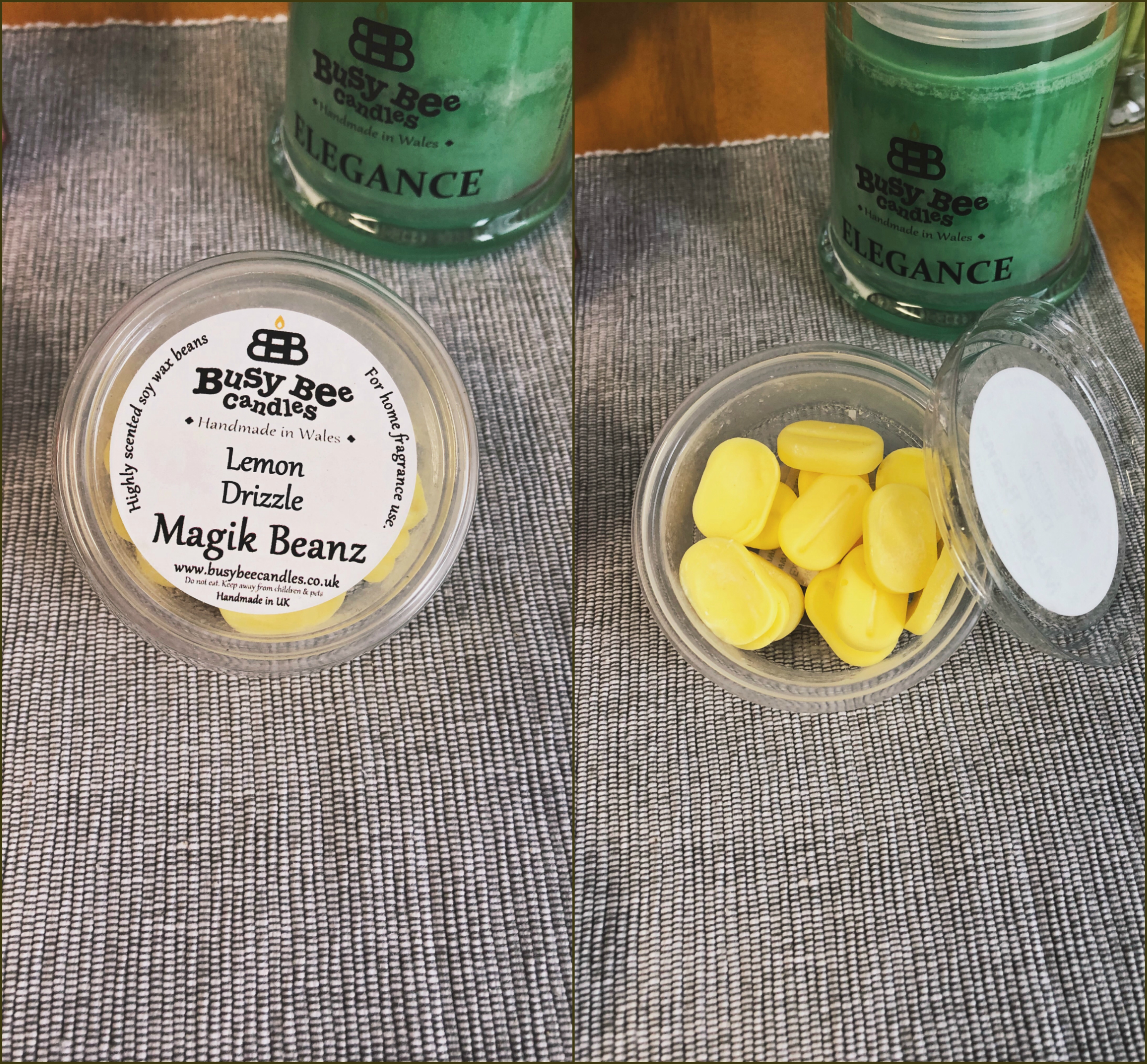 Posledná vôňa z kategórie "fazuľky" tu mám väčšie balenie s názvom Orange & Clove, teda pomaranč a klinčeky, ktoré mi veľmi pripomínajú vianočný punč a atmosféru Vianoc. A kedže ja Vianoce milujem, veľmi sa z tejto vône teším a určite si ju tiež pošetrím na koniec roka. Týchto 15 fazuliek by vám mali vydržať až 20 hodín! Prenikavá a výrazná vôňa 🙂
Druhou kategóriou tu mám vonné vosky, ktoré si taktiež môžte nakombinovať podľa seba. Prvá vôňa Spicy Pear, teda korenená hruška je sladkastá, no nie až tak veľmi ako tie karamelky. Na to, že je to hruška, sa mi páči, pretože po hruškovom šampóne či sprcháči by som určite nesiahla. Táto vôňa je pre mňa príjemným prekvapením 🙂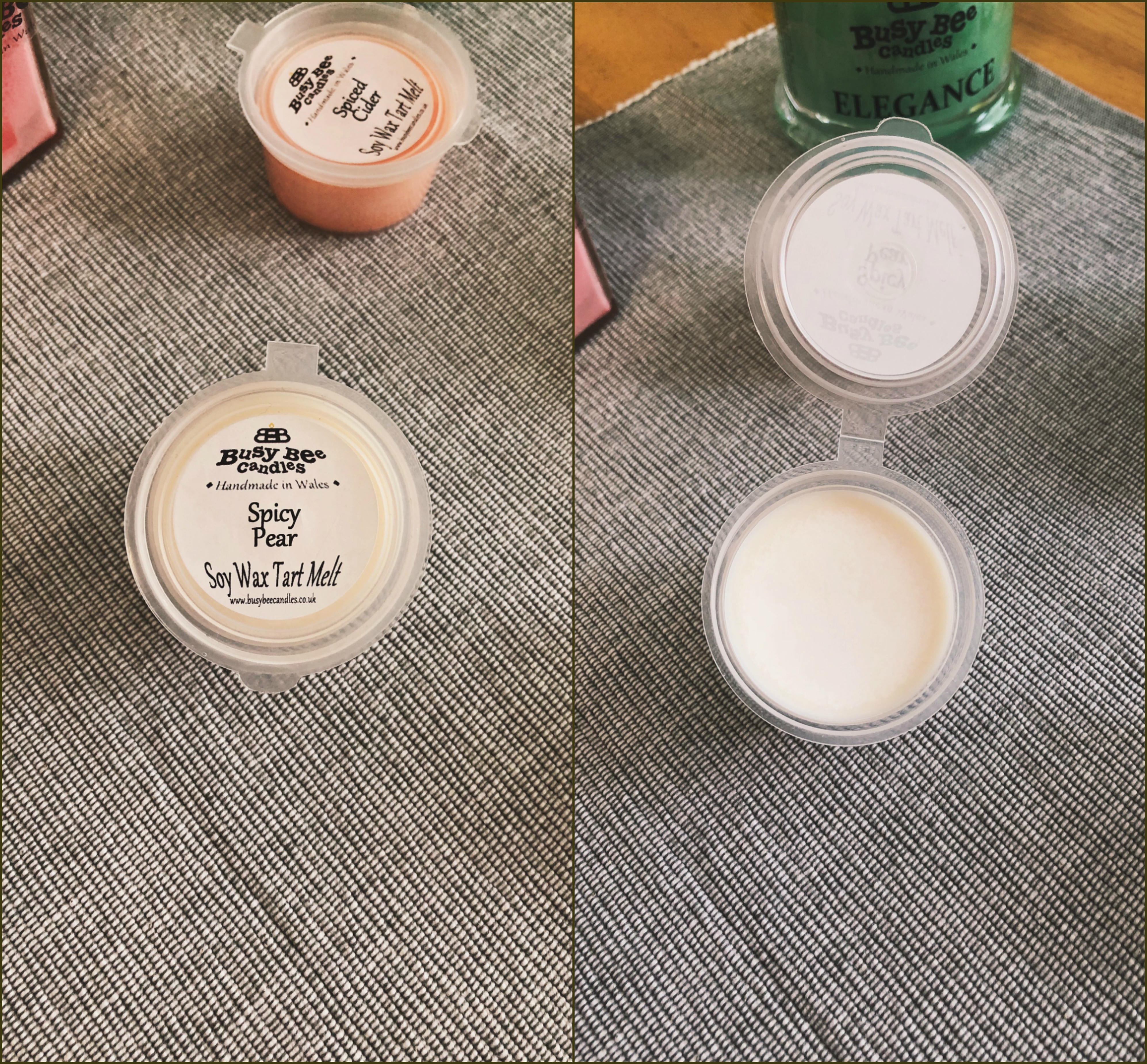 Vôňa Spiced Cider, ktorá zahreje v chladnejších večeroch. Obsahuje vôňu vareného jablka s drevenými tónmi z duba, škoricovej kôry, korenených klinčekov a známky sladkých lesných plodov. Vytvára úžasnú útulnú atmosféru teplého domova. Mne opäť pripomína Vianoce a ja pri nádychu cítim najviac jablko a klinčeky. Krásna vôňa! 🙂
Ako poslednú vôňu z tejto kategórie tu mám Rum Cake, ktorá sa mi páči najmenej. Bude to asi preto, že nemám rada rum a ani jeho vôňu. Ale ako sa ľudovo povie, ak sa vôňa rozloží, možno to bude lepšie. Na ich stránke píšu, že obsahuje aj mandľový extrakt, nasekané mandle, kokosové mlieko, silný vanilkový extrakt a dvojitý krém. Možno mi nevonia aj preto, pretože je tam veľa výrazných vôní, ktovie. Každopádne vonné vosky vám vydržia 12 a viac hodín, čo je super! 🙂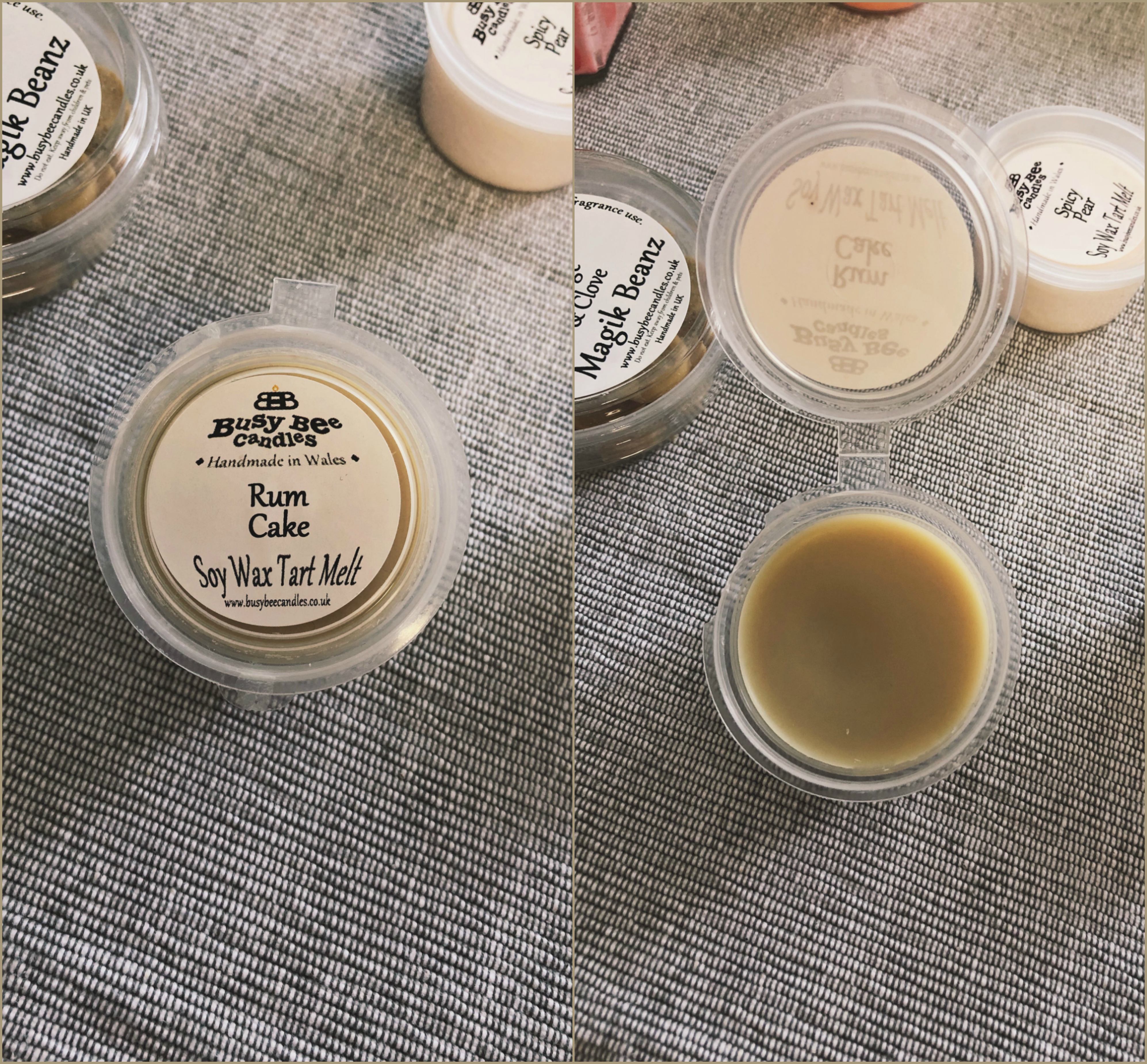 A teraz prichádzajú na rad väčšie balenia, z ktorých mám veľkú radosť! Krásny obal, ktorý sa dá následne využiť či už na ďalšiu sviečku, potraviny alebo doplnky. Ako prvú tu mám Watermelon Explosion, ktorú keď som otvorila, tak som naozaj mala pocit, že tie melóny na mňa zaútočili 😀 Nádherná sladká vôňa melónu, kedy máte pocit, že ste na nejakej melónovej farme (ak nejaká existuje). Mne sa veľmi páči, pretože zbožňujem melónové žuvačky, jeho chuť aj vôňu. Svieža, šťavnatá a letná vôňa! 🙂 Vydrží horieť až 40 hodín a ako môžte vidieť na obrázku, neobsahuje klasický knôt ako ostatné sviečky, ale je to bavlnený knôt.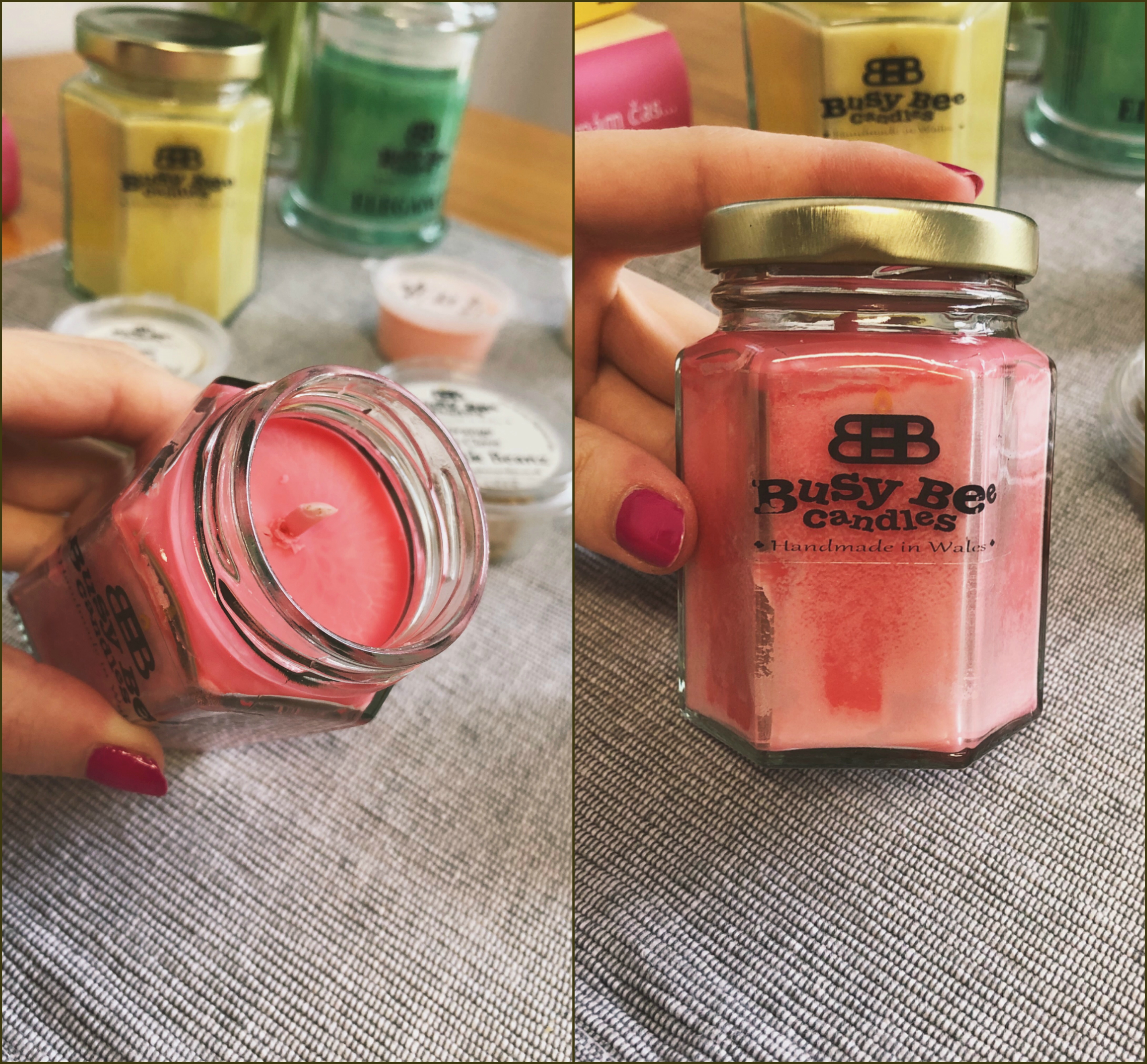 Predposledná sviečka Apple Pie & Custard, teda vôňa horúceho jablkového koláča a vanilkového krému. Karamelizované jablká a vanilkový puding sa spojí s úžasným efektom. Po prečítaní týchto vôní by som si určite predstavovala niečo iné. Keď sa nadýchnem ja, neviem presne popísať, čo cítim, ale prirovnala by som to k vôni, akú cítite, keď vstúpite do akéhokoľvek kvetinárstva. Presne tak to cítim ja. Ale sto ľudí, sto chutí 🙂 Taktiež vydrží až 40 hodín a obsahuje bavlnený knôt.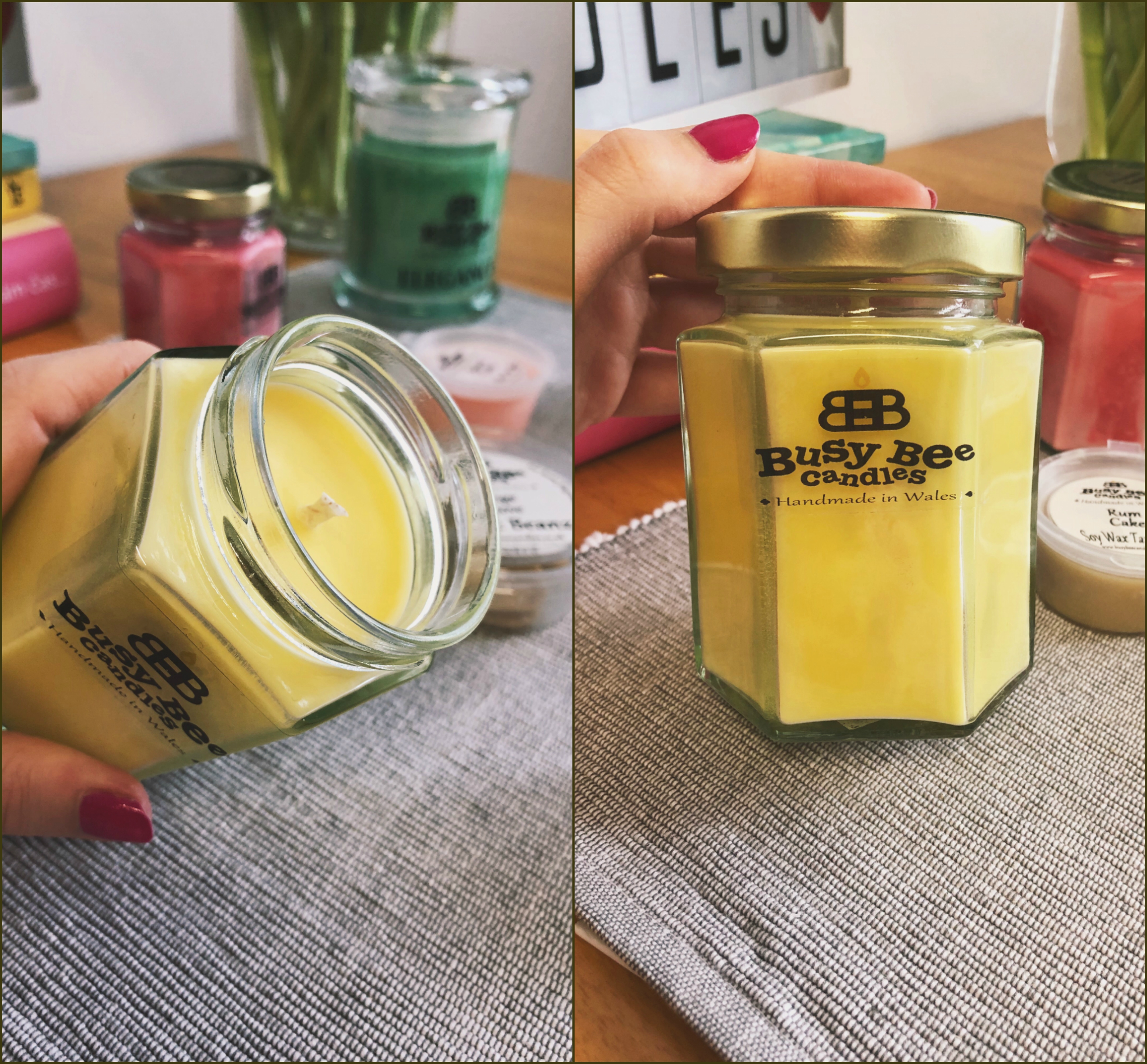 Čerešnička na torte – PRASKAJÚCA SVIEČKA. Prvýkrát som ju videla u youtuberky LENKY, ktorá opisovala jedinečnosť tejto sviečky. Spočíva v tom, že počas horenia drevený knôt vytvára zvuk praskajúcich polienok v krbe. Ja som si ju zapálila, pretože som bola veľmi zvedavá a naozaj po nejakom čase začala praskať a cítila som sa ako pri krbe. Praskanie netrvá celý čas počas horenia, ale keď to začne, stojí to za to! Moja vôňa Rudolph´s Trail mi pri prvom nádychu pripomenula osviežovač vzduchu na toaletu 😀 bude to asi tým, že obsahuje jablká, hrušky, stredné tóny eukalyptu, borovice a pelargónie a dobre vyvážený základ vanilky, cédrového dreva a patchouli. No po zapálení sa to zmenilo a opísala by som ju ako príjemnú a nerušivú vôňu 🙂 Mala by vydržať až 70 hodín! Úžasné! 🙂
Ja sviečky milujem a myslím si, že je to krásny darček, ktorý vždy poteší. Aj mi je ľúto si ich zapáliť. Ale keď vyhoria, mám v pláne si zakúpiť ďalšie, pretože tieto sójové sviečky majú len samé plusy! Verím, že sa vám článok páčil a prajem Vám ešte veselý a voňavý deň! Vaša Mia ♥
P.S 1: všetky produkty nájdete na stránkach: SR–> kuzlokupela.sk  ČR–> kouzlokupele.cz
P.S 2: môj malý tip – ja som si dve fazuľky len tak voľne položila do kuchyne a aj napriek tomu, že nehoria, mi miestnosť dokážu rozvoňať 🙂